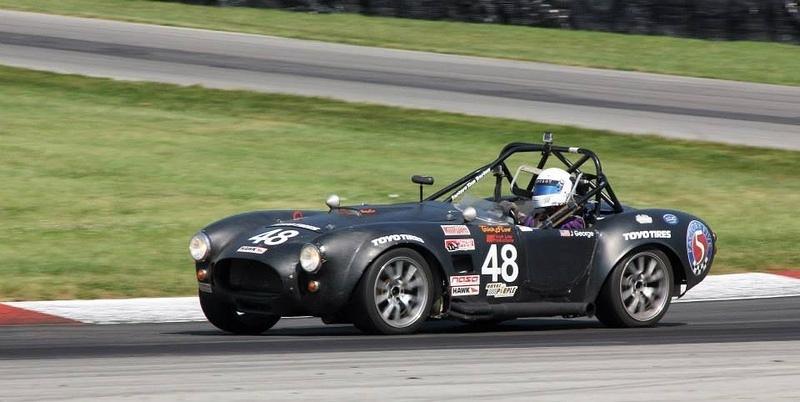 10 FFR Challenge cars, and one GTM came out to play at the first FFR Invitational.
In attendance was Rafe Baskin, John George, Lyle and Julie Riggen of Team RT Tavi Racing, Eric Kostamaa, Brian Sanders, Mike Dzirgrgalski, Wayne Patterson, Mike Tuck and Jeff Whitney sharing FFR#60 once again but this time with Mike racing with a full Nasa license. In attendance was Pat McMahon with his tricked out ST2 legal challenge car. A GTM was registered in HPDE but had issues meeting the safety technical inspection, something to do with having 4point seatbelts. Peter LaRose was also on hand to pick up his FFR#39 from Mark Dougherty's care and only ran Friday Test/Tune due to prior commitments.
The weekend had the usual MidOhio schedule with Friday test/tune, Saturday and Sunday being both race days. Friday started off wet as we got a rain shower overnight. The track dried on after that and fellow FFR's were able to work out the bugs in the test/tune. Pat McMahon being new to MidOhio racing there the first time used Friday to learn the new to him track improving throughout the weekend. In the weekend John's car saw a lot of tools out as the front upper control arm on the drivers side decided to break under braking for the keyhole turn at over 100mph, luckily the crew swapped out the broken bits with new ones and he was able to continue without issues. Thanks to Mark and Brendan Dougherty for helping fix the car quickly not loosing any on-track sessions.
Saturday saw great weather with early practice setting tone the whole weekends adventures with the running theme of who would better who for P1, Rafe or John (always separated by less then a second in every session out!)  Qualifying for Saturday's race has Rafe on pole with a 1:36.419, followed by John separating them by .387 sec, RT Tavi Racing 1:39.7, Eric 1:39.8, Brian 1:40.1, Mike T. 1:44.7, Mike D. (did not go out to qualify), and Wayne 1:45.4. Unfortunately Wayne wanted to check his weight after qualifying and not being called into tech he still went to check his weight and was found underweight, which got him DQ'd from the qualifying results. No harm at all since the FFR Challenge legal cars started together anyways for the race. Pat McMahon was 3rd in ST2 with a 1:38.3.
NASA is trying out a new race format which they call the Matrix race. Its basically bracket racing where you declare a laptime you think you will run, then the officials gather all of the declared times and make 'classes' based on time instead of car type. The theory is great racing with similar timed cars yet without the hassle of class rules, but with the catch being if your laptime is faster then your declared time then you will incur a time penalty after the race. Because of this new format NASA also decided to try out a new course configuration at MidOhio running a race on the short course, never been done before! At turn 1 you take a right bypassing the keyhole all together joining in the middle of the back straight. John decided to sign up for this Matrix race and using old Hoosier slicks from Team Boothman Racing's 25hr car he set out to start the race. The time he declared had him on pole for the start of Matrix race #1! The race itself didnt go so well as he got beached in the gravel at end of back straight (see video)
For the normal Saturday race saw the FFR cars gridded last taking the third green wave behind all of the AI cars. Rafe and John got an early lead and proceeded to battle it out John being the shadow of Rafe ready to pounce on any mistakes made. Rafe ran a great race on the last lap John was turning up the pressure battling fiercely for the lead but was all for not as a BMW forced himself between Rafe and John going into Thunder valley. Lyle and Eric had a great battle for 3rd with Lyle getting the upper hand finishing 3rd. Brian, Mike T., Mike D, and Wayne. Wayne had a starter button wire mix-up causing his car not to run properly and had to retire from the race. Pat McMahon ended up 2nd in ST2.
John was not done with racing for Saturday as Matrix race #2 was the last session on track. This time he decided to keep it on track and finished the race without incidents in 2nd place after all of the deductions were applied. He declared a 1:17.0 and ran a best of 1:18.6 up against 2 Dodge Vipers (1:15's) and a TransAm Camaro (1:17.7), see video below.
Sunday once again saw great weather once again. Qualifying had Rafe on pole with a 1:36.1, followed .110 sec by John, Lyle, Brian, Eric, Mike T., Wayne, and Mike D. On the pace lap Rafe had some issues with something in his footbox and wasnt really paying all that good attention gapping back from the AI group and was caught off guard as the green fell exiting the keyhole. There was slight contact between Rafe and John at the start, and then the race settled back to where they left off in Saturday's race, pushing through AI traffic, while racing hard. On lap 16 Rafe had a right front suspension failure (upper control arm) handing John the win. Lyle finished 2nd followed by Eric, Brian, Wayne, Mike T., Rafe, and Mike D (was out with a mechanical issue on lap 6.) Pat in ST2 finished once again 2nd in class, and with that race completed officially was signed off to obtain his racing license. Congrats Pat!
Pictures from the weekend: http://www.johngeorgeracing.com/gallery/index.php?/category/341
Great weather, even greater on-track action, and wonderful people all around sharing it all, cannot ask for anything more and is a staple at any FFR Challenge race weekend. This was the last race of the 2013 Factory Five Racing East-coast Challenge Series with John George 2013 ECS Champion beating out Rafe by 95 points. Stay tuned for the 2014 racing season!