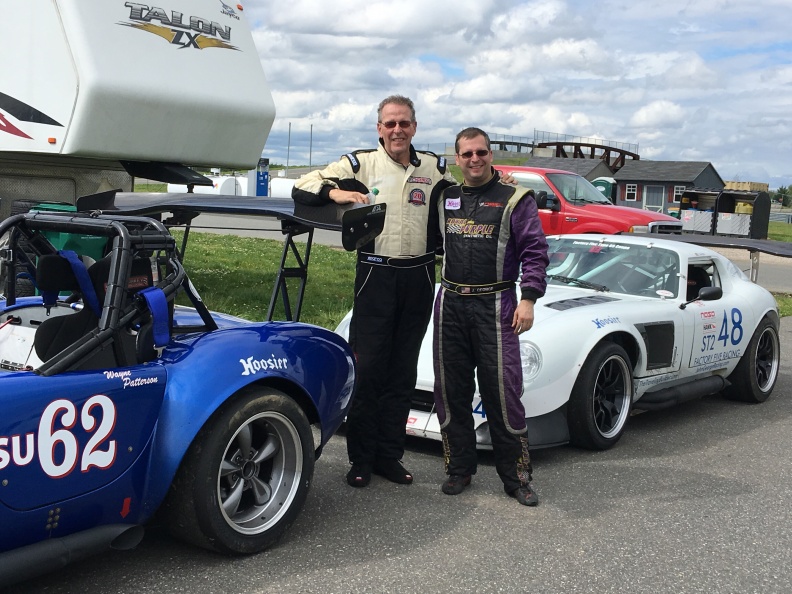 Rain, Race, and Time Trials.
NASA Northeast's first event of the 2017 season kicked off this past weekend at NJMP Lightning race track. In attendance the usual ST2 contingency (although missing Pat McMahon, he is installing a dry sump oiling system) and also making a return to racing fellow FFR Challenge series driver Wayne Patterson racing his Ford 427ci powered FFR Challenge car in SU. Scott Chambers in his AIX Mustang also made the long haul from MA and paddocked with us.
Driving the long trip down from NH with me was my mom Mihaela, meeting us at the racetrack was crew chief Mark and his wife Wanda. We were set for an exciting and productive weekend testing which size tires work best on the Daytona Coupe. The tire testing selection for the weekend were the old 245 Hoosiers, same as I ran on the Cobra, and 275 Hoosiers. Well, the weather decided Friday no slick tire testing. A massive storm system stretching the east coast rained buckets of water on us.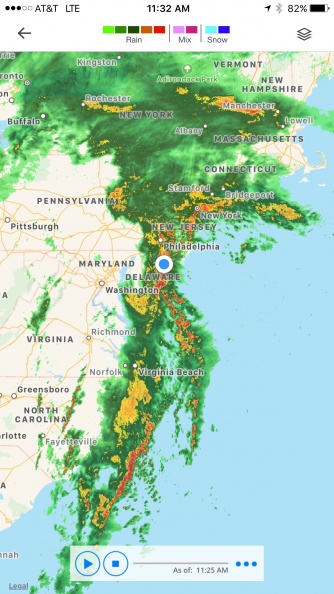 So, we hung out the entire day Friday entertaining ourselves in the RV.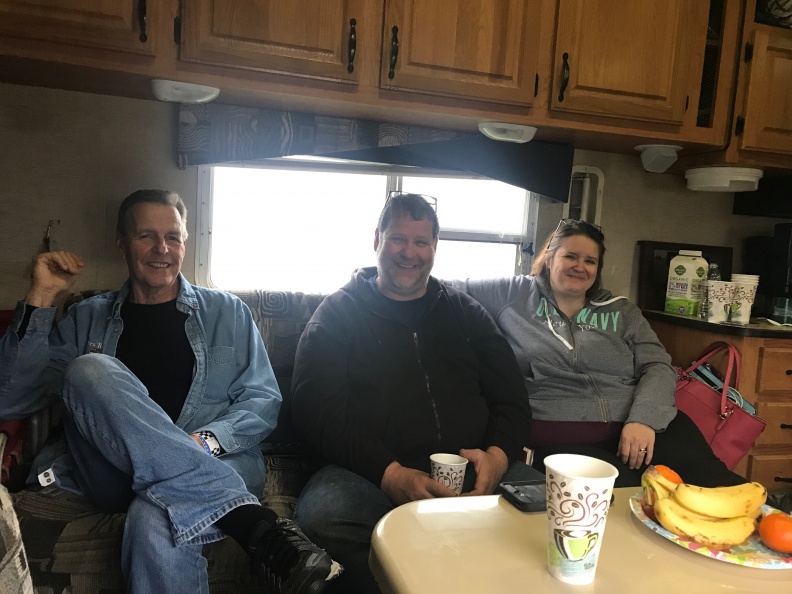 Wayne, Mark and Wanda.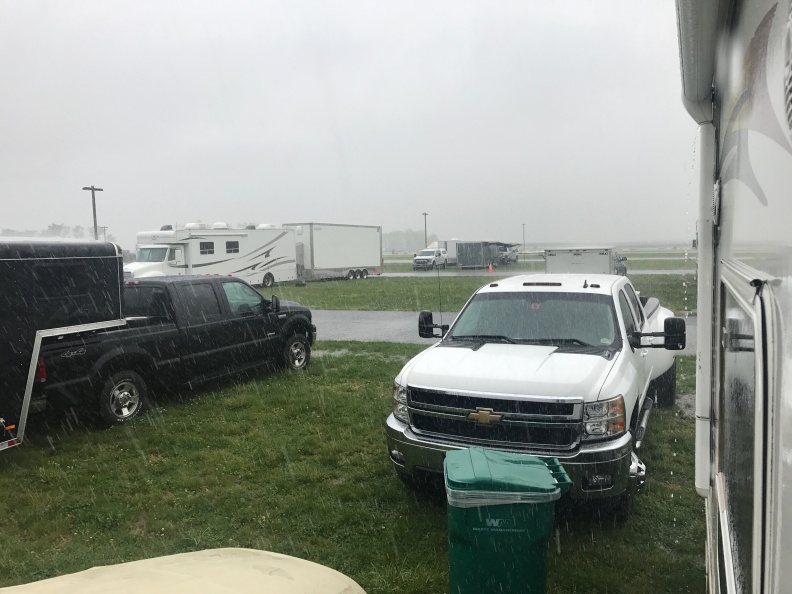 The rain coming down.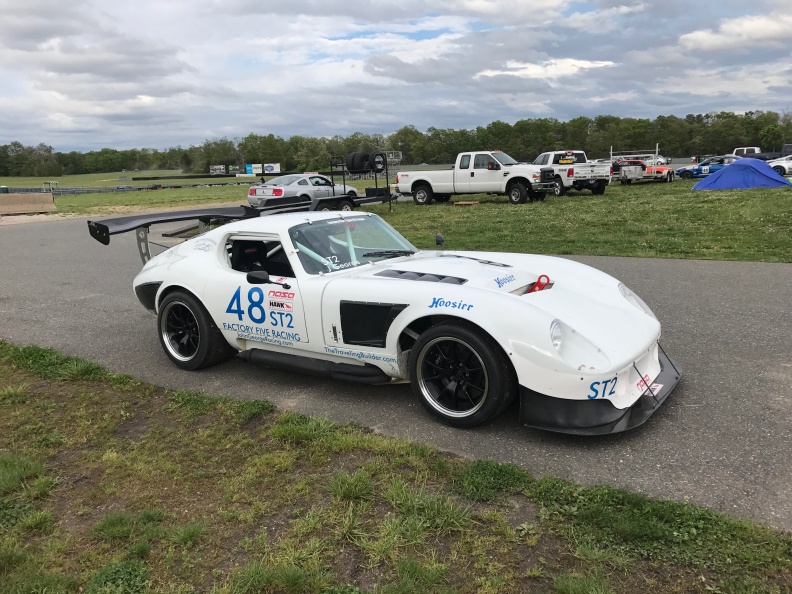 Saturday brought much better weather, although it threatened to have pop-up showers throughout the day. Carl Thompson, a fellow FFR Challenge series racer came to spectate and hang out at the track. It was awesome to get the Northeast crew back together! Brings back great memories.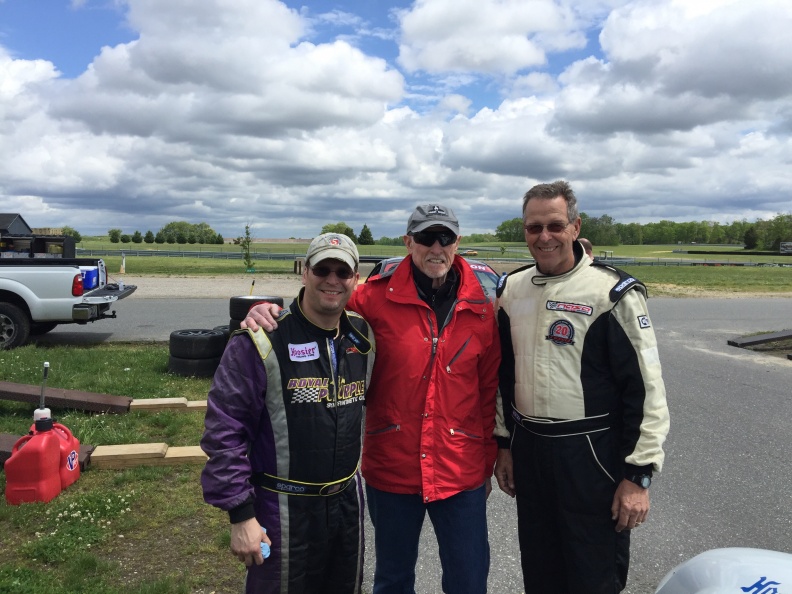 Me, Carl, and Wayne (shortest to tallest)
I changed my Friday test day entry to run Time Trial Saturday/Sunday so I was very busy on track trying to make up for the lost tire testing time. Early on I went out on old 245 tires, getting familiarized with the track, and setting a respectable time. Practice went without issue, Wayne in the Cobra matched my times in the session! We compared data and Mr Horsepower (Wayne) was 10 mph faster on the straightaway then me in my car, a whopping 150 mph. Scott Chambers in his Mustang got towed in after practice with a broken rear end. His day was done, packed up and towed back north to MA.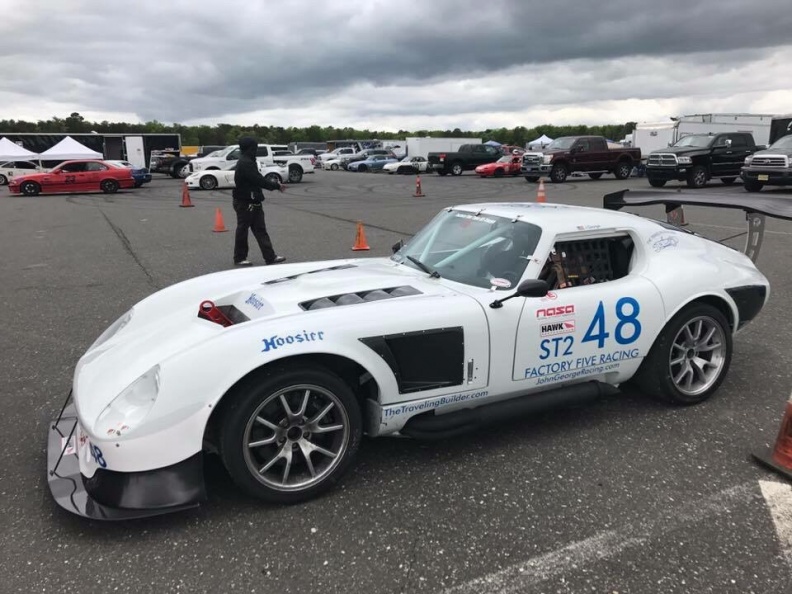 Qualifying on new 275 tires mid day was hectic with people scrubbing tires and coming to a complete stop at the start of the session, then fellow ST2 competitor John Gatzemeyer spinning with me and Doug Winston trying to avoid him, unfortunately Doug and John got together along with the metal barrier. Even with all the chaos I managed to better Adrian Wlostowski's time putting my car on pole, Adrian 2nd, Mike Kuna (new addition to ST2) 3rd, Mark Petronis 4th, Alan Cohen 5th getting disqualified after the session for some reason. John and Doug both had cars to fix and missed the race Saturday. Wayne starts 4th overall in between the ST2 field.
Race started off very slow and a super late green flag had me in the lead for 3 laps, then Adrian came to play. Back to the usual shenanigans racing side by side on the straightaway, turn 1 – 4 inches from each other!  Its good to be back in a race car racing hard with Adrian, picking up where we left off last year, back at it again. Unfortunately for me it was a Corvettes kind of day, Adrian passed me and slowly made up 1-2 car lengths each lap. In my mirror looming large was Mark Petronis, eventually passing me in turn 7. We finished with Adrian 1st running a fastlap of 1:09.492, Mark 2nd with a 1:09.459, me 3rd with a 1:10.206, Mike 4th with a 1:11.040, Alan 5th running a 1:11.8. Wayne won his class in SU with a 1:11.017.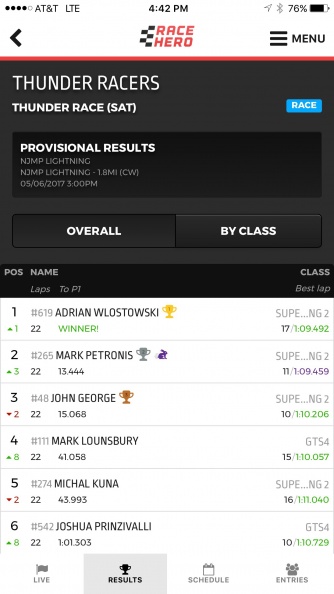 After the race we all went through tech and scales, and I was over 150lb over my minimum weight! Time to try something else, more power and raise my minimum weight. Hopefully that will give me the extra umph to keep up with those pesky Corvettes.
Chris Allen was also at the track in his BMW E30, starting on pole for his race, and winning it overall Saturday.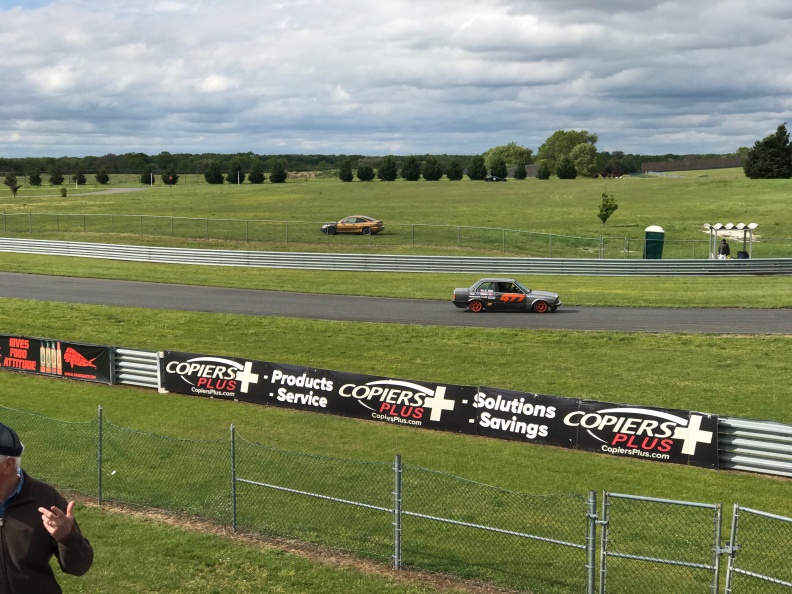 After the race NASA Northeast put on a great BBQ and awards ceremony.
I got 2nd place in Time Trial 2 class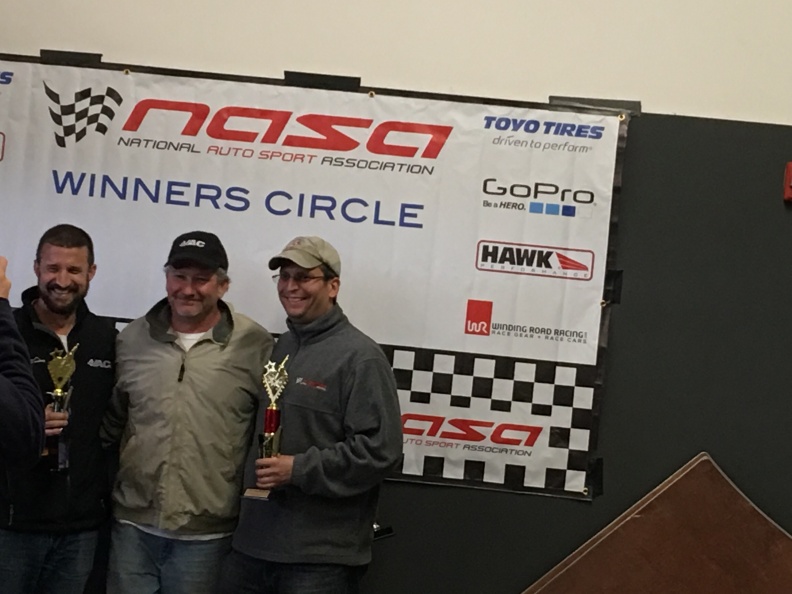 and 3rd in ST2 race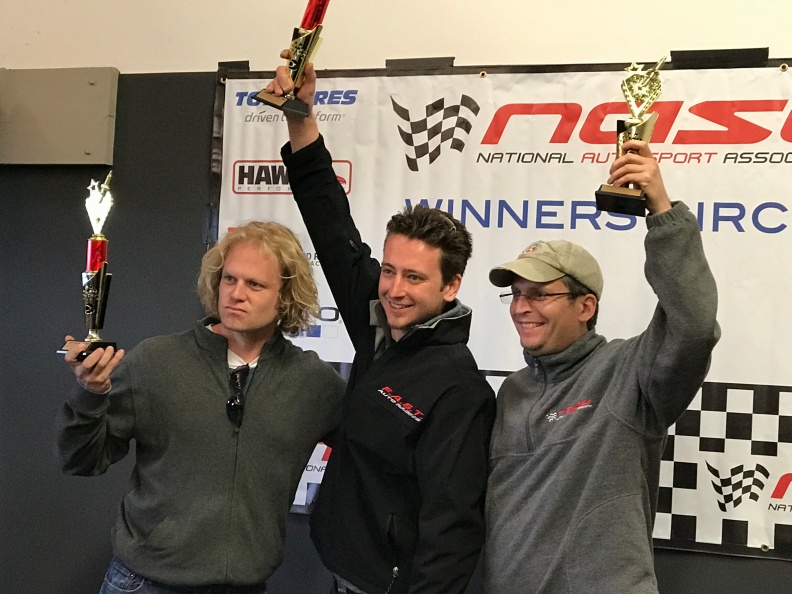 Mark clearly not happy with 2nd with his 'game' face on! Adrian and I.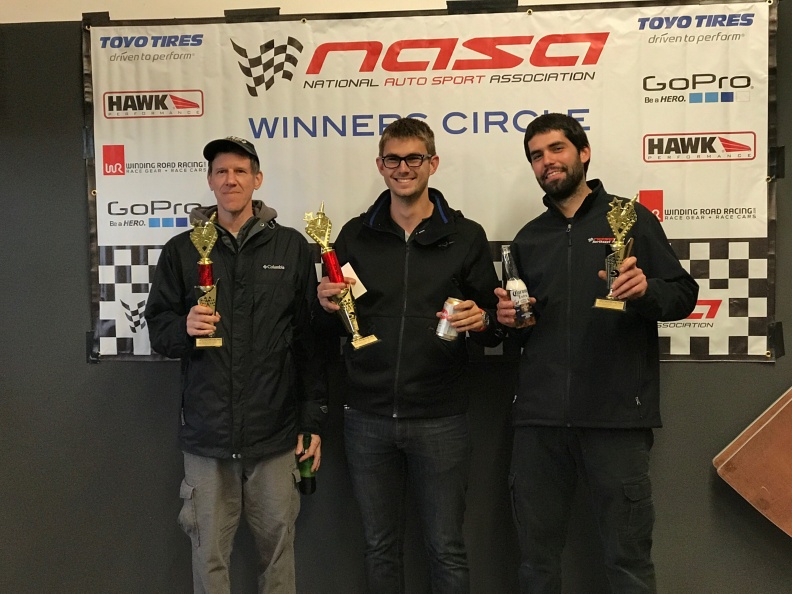 Chris's podium.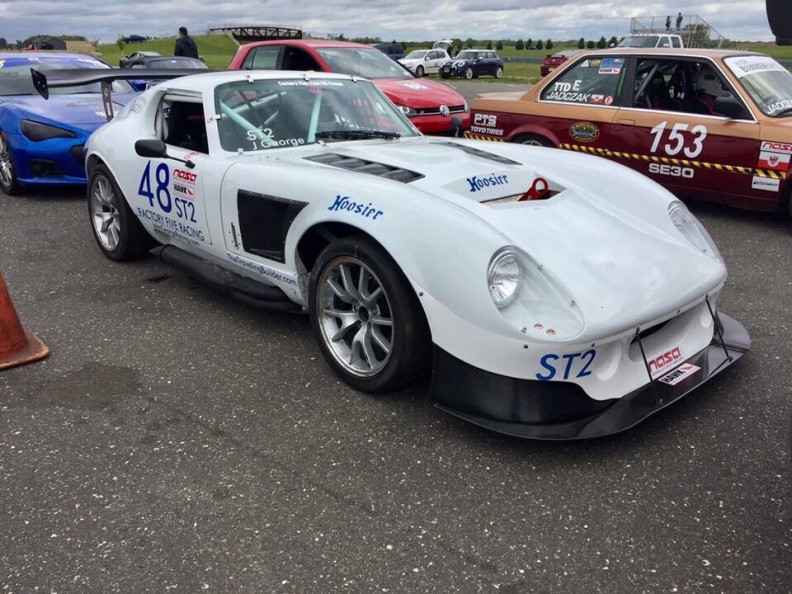 Sunday lineup for Time Trial in the first session, this time heavy with a full tank of gas and with more power trying to see if that will be the winning combination. I have to keep remembering this is a brand new race car.  It will take this year to sort it all out, find the optimal setup/parts combination.
Unfortunately engine issues caused me to get towed into the paddock and with that I was done for the day. Packed up the car in the RV and headed home.
Adrian won the race Sunday, leading every lap, and setting the fastest time overall in the race. Mark 2nd and Alan 3rd, Mike 4th, John got his Corvette fixed for the race and finished 5th, John Robbins in his Evo finished 6th.
Chris in the E30 class lost to Rob Casella by .044 seconds in a photo finish with Rob a bumper ahead of Chris.
The next event for me is in 2 weeks at VIR for Hyperfest 2017 where I will participate in Grassroots Motorsports Magazine's Ultimate Track Car Challenge in the Daytona Coupe, along with fellow FFR cars 818R and Challenge cars. It will be great to have all FFR cars under 2:00 minute lap at VIR, that will be huge! Factory Five will be there with their big rig, and NASA-MA has organized a Cobra Corral for street cars. I cannot wait to see everyone there.
Pictures from the weekend: http://www.johngeorgeracing.com/gallery/index.php?/category/398