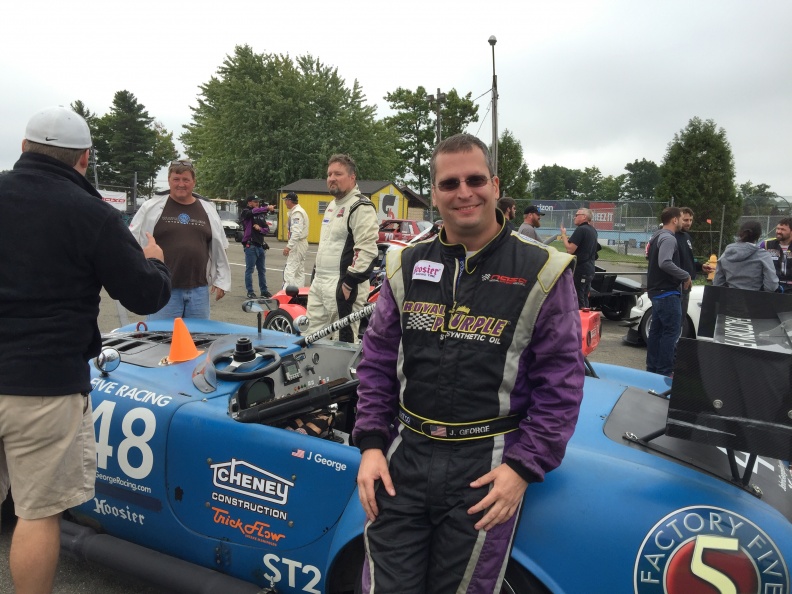 John George – ffrspec48@gmail.com
My racing career started November 2003 when I purchased a Factory Five Challenge Series kit car. Taking 1 1/2 years to complete FFR #4706SP was on the road July 2005.
Now that I had a race car, I needed to learn how to race, in July 2005 I attended the SkipBarber Racing School at Limerock, CT and came out with a provisional SCCA license. With that in hand I was able to apply for a NASA racing license and did my first race at VIR (at the time the FFR Nationals 2005; finished 10th.) I completed my 4 rookie races at Summit Point in Oct 2005.
2006 season saw the first full season of racing starting with MidOhio in April, WatkinsGlen in May, BeaveRun in June, Hyperfest at Summit Point in July, Limerock in August, MidOhio in August, and back to MidOhio in September for NASA Nationals 2006 (finished 6th).
2007 season started with MidOhio in April, BeaveRun in May, Hyperfest at Summit Point in June, Pocono in July, Limerock in August, MidOhio in August, back to MidOhio in September for NASA Nationals 2007 (finished 5th), and finishing with WatkinsGlen in October.
2008 started at VIR in February with a 3hr endurance race where I finished 3rd in the E0 class, Road Atlanta in March with another 3 hr endurance race, Sebring in June driving Ed Boothman's FFR #85, Pocono in July, MidOhio in August, and back to MidOhio in September for NASA Nationals 2008 (finished 3rd.) I also had the privilege of being part of Team Racing 4 A Reason 2 running Ed Boothman's FFR #85 in the NASA's 25hr race at Thunderhill 2008 where we finished 27th overall (out of 68 competitors) and 11th in E0 class (out of 18 competitors.)
2009 was an eventful year starting and ending with engine troubles in two different cars. Road Atlanta saw me sidelined for the Enduro and Saturday's race in FFR#48 but both Car Thompson and Scott McKay were kind enough to let me drive their cars during the Enduro. Andy Cole and Bob Kay slaved over my engine getting it working with a head swap at the track and I was able to make Sunday's race. From then on it was two times at Summit Point. In between the two SummitPoint events Kevin Eves and I went down to Florida to help upgrade Ed Boothman's FFR#85 to ES trim upgrading brakes/engine/suspension and then testing the car at Sebring, FL. After that at MidOhio saw 12 Challenge cars nose-to-tail creating some exciting racing the whole weekend. Limerock was next and had me set a new lap record (1:01.395) during the races. The 2009 NASA Nationals was next held in Utah this year at Miller Motorsports Park where once again I finished 3rd. Watkings Glen was the last race of the season in FFR#48 finishing out by besting my old track record by nearly 4 seconds at a 2:12.447 lap. After that the focus shifted to Ed Boothman's FFR#85 Enduro car for the NASA25hr race in December 2009, flying to test/tune in Oct and Nov at Thunderhill Racetrack in CA. FFR#85 unfortunately had a blown engine during qualifying for the 25hr, and after the crew slaved all night doing an engine swap saw us unfortunately retiring from the 2009 25hr after only 3hrs with engine troubles again.
2010 started again at Road Atlanta with a 3hr Enduro in the rain this time. I was driving great and was either 2nd or 3rd overall when coming into the downhill esses I hydroplaned off the track hitting the tire-wall backwards taking me out of the event. Mark/Jim/Dave were great succoring my car up after the hit by drilling holes in the affected areas using zip-ties to hold the 2 pieces together. The races at Road Atlanta Saturday and Sunday were uneventful. After that debacle start progress was once again made on Ed's enduro car, FFR#85 now back up north at Factory Five with Jim, Andy, and me working to dial in the car for the 2010 NASA 25hr race. Fitting in Jim's spare shortblock along with Ed's spare Trickflow heads we headed up to NHMS for Test/Tune #1. #85 ran flawlessly and was even fast on my old Toyo RA1's. My next event in #48 was at Summit Point which saw great races between Paul Kaiser and I, with Paul being the victor. May/June saw me dawn a new body on #48, now flat black, and a ton of work getting done on #85. June was once again at NHMS for Test/Tune #2 in #85 where we worked on crude aero package and tire pressures. End of June through August saw me in #48 heading for great sprint races at BeaveRun,  VIR, and MidOhio. End of August was a COMSCC weekend for me in #48 doing the final shakedown prep for Nationals 2010 held at Miller Motorsports Park in Utah. At Nationals 2010, Mark Dougherty helped me tremendously fine-tuning the car setup allowing me to have great races battling up front. TC McNett and I dueled most of the Nats race with Scott McKay sailing off with the win. TC on the last lap got a great run on me going into the hairpin but was too fast entering and spun the car securing me a 2nd place finish. After Nats 2010, the focus shifted once again on Ed's FFR#85 Enduro car, now dawning aero with a new splitter, tanoe cover on the passenger side cockpit, and the rear wing from the FFR GTM supercar. Testing things like break-balance, break-wear, tire-wear, fuel consumption, allowed the car to run 1:12.5 second laptime around NHMS, a full 5-6 seconds faster the #48. NASA 25hr 2010 saw us finishing 5th in class, and 18th overall with the car on track for about 22hrs. The crew overcame problems with studs breaking, and axle flange bending only loosing about 3hrs of tracktime. Post race analysis identified gaps which will be resolved for 2011 NASA 25hr race.
With Factory Five releasing the Gen3 Daytona Coupe I decided to sell the FFR Challenge car and build a Gen3 Daytona Coupe. Mark Dougherty, Brendan Dougherty, Sean Lingle and I built a racecar in 3 months (5 build weekends to be exact!) with the old engine from the Challenge car. Our first outing with the new racecar at VIR proved the decision to swap a cobra to a Daytona coupe was a great one, right out of the box I ran 2:00 laptimes! In April FFR needed a Gen3 Daytona Coupe to do some windtunnel testing, along with some more track testing to optimize setup for their Gen3 Daytona Coupe built with SnapOn for Joey Legano. FFR#48 saw some engine issues at NJMP in May and we had to scramble to replace the engine in time for Hyperfest @ VIR, including the Grassroots Motorsports Ultimate Track Car Challenge. Finishing #7 in UTCC with a time of 1:58.9, excellent for a 365hp street legal car! June at NJMP proved to be some fantastic racing in ST2, July drama at Pocono, and then in August @ Limerock for great track battles in ST2. After the season I decided to sell the car as life priorities are changing.
2017 marks the end of racing for me for a while. Its been a great run, 2 National Championships, loads of fun had for sure, but after 12 years of racing I decided to take a break. I'm sure I'll eventually get back to it again later in life.
Racing Bio
| | | | | |
| --- | --- | --- | --- | --- |
| 2019 | July 14 – street car | Nürburgring | Nürburgring | Germany |
| 2017 | Sept 22 | NASA-NE | Watkins Glen | NY |
| 2017 | Aug 25-26 | NASA-NE | Limerock | CT |
| 2017 | Canaan – Private test with FFR#22 Gen3 CoupeR | Canaan | Canaan | NH |
| 2017 | July 7-8 | NASA-NE | Pocono | PA |
| 2017 | July 1 AutoX | NE-SVT | Devens | MA |
| 2017 | Aug 26-28 | NASA Great Lakes | MidOhio | OH |
| 2017 | June 16-18 | NASA NorthEast | NJMP Thunderbolt | NJ |
| 2017 | May 19-21 UTCC2017 | NASA MidAtlantic | VIR | VA |
| 2017 | May 5-7 | NASA-NE | NJMP Lightning | NJ |
| 2017 | April 10-11 Private test with FFR#48 Gen3 CoupeR | WindTunnel + NCCAR | NCCAR | NC |
| 2017 | Mar 24-26 | NASA MidAtlantic | VIR | VA |
| | | | | |
| --- | --- | --- | --- | --- |
| 2016 | Dec 1-4 (Adrian's F.A.S.T Auto Racing Corvette #96) | NASA 25hr | Thunderhill | CA |
| 2016 | Oct 29 AutoX | SCCA | Hershey | PA |
| 2016 | Oct 8 AutoX | NESVT | Ft Devens | MA |
| 2016 | Sept 22-25 Nationals East – fin=1 in ST2 | NASA | Watkins Glen | NY |
| 2016 | Aug 29-30 (Mon-Tues) | NASA NorthEast | Watkins Glen | NY |
| 2016 | Aug 26-28 | NASA Great Lakes | Mid Ohio | OH |
| 2016 | July 22-24 | NASA NorthEast | Palmer Motorsports Park | MA |
| 2016 | June 17-19 | NASA NorthEast | NJMP Thunderbolt | NJ |
| 2016 | May 5 with FFR818R | Palmer Test Day | Palmer Motorsports Park | MA |
| 2016 | April 23 with Gary Cheney's FFR818R | COMSCC | Canaan | NH |
| 2016 | April 15-17 | NASA NorthEast | NJMP Lightning | NJ |
| | | | | |
| --- | --- | --- | --- | --- |
| 2015 | Oct 16-18 | NASA NorthEast | NJMP Thunderbolt | NJ |
| 2015 | Sept 25-27 (won Sat/Sun overall) | NASA NorthEast | Palmer Motorsports Park | MA |
| 2015 | Aug 30 (AutoX) | NE-SVT | Devens | MA |
| 2015 | July 31 (FFR818R) | NHMS Test Day | NHMS | NH |
| 2015 | July 3-4 | NASA NorthEast | Limerock | CT |
| 2015 | June 13-14 (TransAm support race) | NASA NorthEast | NJMP Thunderbolt | NJ |
| 2015 | June 5-7 | NASA GreatLakes | Mid Ohio | OH |
| 2015 | May 1-3 | NASA MidAtlantic | VIR | VA |
| 2015 | March 25 (new FFR Roadster IRS test) | Private Test | NCCAR | NC |
| 2015 | March 20-22 | NASA MidAtlantic | VIR | VA |
| | | | | |
| --- | --- | --- | --- | --- |
| 2014 |  Nov 15-16 with Chris Allen's Spec E30 | NJMP | NJMP Lightning | NJ |
| 2014 | Oct 3 with FFR818R and 3hr enduro in Mike Tuck's FFR#60 | NASA-MA | VIR | VA |
| 2014 | Aug 28-31 Nationals East 2014 – fin=2nd | NASA | Road Atlanta | GA |
| 2014 | Aug 1-3 | NASA-SE | Road Atlanta | GA |
| 2014 | July 18 with FFR818R @ UTCC2014 | NASA-MA | VIR | VA |
| 2014 | July 15 test with FFR818R | Limerock | Limerock | CT |
| 2014 | July 3-5 | NASA-NE | Limerock | CT |
| 2014 | June 20-22 | NASA-NE | Thompson Speedway | CT |
| 2014 | May 16-18 | NASA-NE | NJMP Thunderbolt | NJ |
| 2014 | Mar 21 | NASA-MA | VIR | VA |
| | | | | |
| --- | --- | --- | --- | --- |
| 2013 | Dec 6 – 8hr at Road Atlanta in FFR#52 | NASA-SE | Road Atlanta | GA |
| 2013 | Sept 27-29 – in FFR818R | NASA-NE | Watkins Glen | NY |
| 2013 | Aug 23-25 | NASA-GL | Mid Ohio | OH |
| 2013 | July 26-28 | NASA-GL | Mid Ohio | OH |
| 2013 | July 19 – in FFR818R @ UTCC2013 | NASA-MA | VIR | VA |
| 2013 | June 14-16 – 4hr Enduro in FFR#60 Friday | NASA-SE | Road Atlanta | GA |
| 2013 | May 18 – AutoX, got fast time of day | Track Club USA | Ft Devens | MA |
| 2013 | April 26-28 | NASA-GL | Mid Ohio | OH |
| 2013 | April 24-25 – second FFR818/818R track development/test | Private Test/Tune | NCCAR | NC |
| 2013 | Mar 22-24 | NASA-MA | VIR | VA |
| 2013 | Feb 7 – fist FFR818/818R track development/test | Private Test/Tune | NCCAR | NC |
| | | | | |
| --- | --- | --- | --- | --- |
| 2012 | Dec 8-9 driving FFR#85 | NASA 25hr | Thunderhill | CA |
| 2012 | Sept 28 driving FFR#85 | NASA-NE | Watkins Glen | NY |
| 2012 | Sept 5-9 NASA Nationals 2012 – fin=1st | NASA | Mid Ohio | OH |
| 2012 | Aug 10-12 | NASA-GL | Mid Ohio | OH |
| 2012 | Aug 3 driving FFR#85 | NHMS Test/Tune | NHMS | NH |
| 2012 | June 15-17 | NASA-SE | Road Atlanta | GA |
| 2012 | May 25-27 | NASA-NE | NJMP Thunderbolt | NJ |
| 2012 | April 28-29 | NASA-NE | Summit Point | WV |
| 2012 | Mar 31-April1 | NASA-FL | Sebring | Fl |
| 2012 | Mar 23-25 | NASA-NE | VIR | VI |
| | | | | |
| 2011 | Dec 3-4 driving FFR#85 | NASA 25hr | Thunderhill | CA |
| 2011 | Oct 7-9 driving FFR#77 (Greg Wellinghoff's FFR) | NASA-GL | Road America | WI |
| 2011 | Sept 30 driving FFR#85 | NASA-NE | Watkins Glen | NY |
| 2011 | Sept 7-11 NASA Nationals 2011 – DNF, car overheated | NASA | Mid Ohio | OH |
| 2011 | Aug 12-14 | NASA-GL | Mid Ohio | OH |
| 2011 | July 22-24 driving FFR#85 @ UTCC2011 | NASA-MA | VIR | VA |
| 2011 | July 15-17 | NASA-GL | Mid Ohio | OH |
| 2011 | June 17-19 | NASA-SE | Road Atlanta | GA |
| 2011 | May 14 AutoX | NESVT | Ft Devens | MA |
| 2011 | May 1 AutoX | BSCC | Ft Devens | MA |
| 2011 | April 21 | COMSCC Test/Tune | NHMS | NH |
| 2011 | Mar 25-27 | NASA-MA | VIR | VA |
| | | | | |
| 2010 | Dec 2-5 driving FFR#85 | NASA 25hr | Thunderhill | CA |
| 2010 | Oct 7 driving FFR#85 | NHMS Test/Tune 4 | NHMS | NH |
| 2010 | Sept 23 driving FFR#85 | NHMS Test/Tune 3 | NHMS | NH |
| 2010 | Sept 16-19 NASA Nationals 2010 – fin=2nd | NASA | Miller Motorsports Park | UT |
| 2010 | Aug 28-29 | COMSCC | NHMS | NH |
| 2010 | Aug 13-15 | NASA-GL | Mid Ohio | OH |
| 2010 | July 23-25 | NASA-MA | VIR | VA |
| 2010 | June 26-27 | NASA-GreatLakes | BeaveRun | PA |
| 2010 | June 17 driving FFR#85 | NHMS Test/Tune 2 | NHMS | NH |
| 2010 | April 17-18 | NASA-MA | Summit Point | WV |
| 2010 | April 15 driving FFR#85 | NHMS Test/Tune 1 | NHMS | NH |
| 2010 | Mar 12-14 Fri Enduro | NASA-SE | Road Atlanta | GA |
| | | | | |
| 2009 | Dec 4-6 driving FFR#85 | NASA 25hr | Thunderhill | CA |
| 2009 | Nov 11-14 driving FFR#85 | Test/Tune #2 | Thunderhill | CA |
| 2009 | Oct 16-18 driving FFR#85 | Test/Tune #1 | Thunderhill | CA |
| 2009 | Oct 2-4 | NASA-NE | Watkins Glen | NY |
| 2009 | Sept 10-13 NASA Nationals 2009 – fin=3rd | NASA | Miller Motorsports Park | UT |
| 2009 | Aug 7-8 | NASA-NE | Limerock | CT |
| 2009 | July 10-12 | NASA-GreatLakes | Mid Ohio | OH |
| 2009 | June 20-21 Hyperfest 2009 | NASA-MA | Summit Point | WV |
| 2009 | June 13 driving Ed Boothman's FFR#85 | CHIN | Sebring | FL |
| 2009 | May 31 AutoX | NESHOC | Ft Devens | MA |
| 2009 | May 3 AutoX | NESHOC | Ft Devens | MA |
| 2009 | April 25-26 | NASA-MA | Summit Point | WV |
| 2009 | April 11 AutoX | SCMC | Ft Devens | MA |
| 2009 | Mar 13-15 Fri Enduro | NASA-SE | RoadAtlanta | GA |
| | | | | |
| 2008 | Dec 5 – 7 (Fri – Sun 25hr race) driving FFR#85 | NASA 25hr | Thunderhill | CA |
| 2008 | Oct 17 – 19 (Fri – Sun Test/Tune) driving FFR#85 | Shelby club | Thunderhill | CA |
| 2008 | Oct 11, (Sat) Devens AutoX | SCMC | Ft Devens | MA |
| 2008 | Sept 11 – 14 (Thurs-Sun) NASA Nationals 2008 – fin=3rd | NASA | Mid Ohio | OH |
| 2008 | Aug 15 – 17 (Fri-Sun) | NASA-Ohio | Mid Ohio | OH |
| 2008 | July 18 – 20 (Fri-Sat-Sun – Pocono Long) | NASA-NE | Pocono | PA |
| 2008 | July 5, (Sat) Devens AutoX | SCMC | Ft Devens | MA |
| 2008 | June 21-22 (Sat-Sun) driving Ed Boothman's FFR#85 | NASA-FL | Sebring | FL |
| 2008 | May 31, (Sat) Devens AutoX | SHOC | Ft Devens | MA |
| 2008 | May 4, (Sun) Devens AutoX | SHOC | Ft Devens | MA |
| 2008 | April 12, (Sat) Devens AutoX | SCMC | Ft Devens | MA |
| 2008 | March 14-16 (Fri Enduro, Sat-Sun race) | NASA-SE | Road Atlanta | GA |
| 2008 | Feb 22 – 24 (Fri-Sun) + 3hr Enduro | NASA-MA | VIR | VA |
| | | | | |
| 2007 | Oct 13 – 14 (Sat-Sun) | NASA-NE | Watkins Glen | NY |
| 2007 | Sept 12 – 16 (Mon-Sun) NASA Nationals 2007 – fin=5th | NASA | Mid Ohio | OH |
| 2007 | Aug 17 – 19 (Fri – Sat – Sun) | NASA-Ohio | Mid Ohio | OH |
| 2007 | Aug 3 – 4 (Fri – Sat) | NASA-NE | Limerock | CT |
| 2007 | July 24 (Test & Tune 12:15pm-5:30pm) | Limerock | Limerock | CT |
| 2007 | July 23 (Pocono South) | CART | Pocono | PA |
| 2007 | July 21 – 22 (Sat-Sun – Pocono Long) | NASA-NE | Pocono | PA |
| 2007 | June 23 – 24 (Sat – Sun) | NASA-MA | Summit Point | WV |
| 2007 | June 2 – 3 (Sat-Sun) | NASA-NE | Pocono | PA |
| 2007 | May 19 – 20 (Sat/Sun) | NASA-NE | BeaveRun | PA |
| 2007 | April 28 – (Sat) AutoX | SCMC | Ft Devens | MA |
| 2007 | April 23 – 24 (Mon-Tues) HPDE Only | COMSCC | Watkins Glen | NY |
| 2007 | April 20 – 22 (Fri-Sat-Sun) | NASA-Ohio | Mid Ohio | OH |
| | | | | |
| 2006 | Nov 11 – 12 (Sat-Sun) | NASA-MA | Summit Point | WV |
| 2006 | Oct 21 – 22 (Sat-Sun) | COM | NHIS | NH |
| 2006 | Oct 2 (Mon) | CART | Limerock | CT |
| 2006 | Sept 14 – 17 (Mon-Sun) NASA Nationals 2006 – fin=6th | NASA | Mid Ohio | OH |
| 2006 | Aug 26-27(Sat-Sun) Race 26, Enduro 27 | NASA-NE | Pocono | PA |
| 2006 | Aug 20 (Sun) | NASA-NE | Pocono | PA |
| 2006 | Aug 12 – 13 (Sat – Sun) | NASA-Ohio | Mid Ohio | OH |
| 2006 | Aug 4 – 5 (Fri – Sat) | NASA-NE | Limerock | CT |
| 2006 | July 8-9 (Sat-Sun) | NASA-MA | Summit Point | WV |
| 2006 | June 10 – 11 (Sat-Sun) | NASA-Ohio | BeaveRun | PA |
| 2006 | May 8 – 9 (Mon-Tues) | NASA-NE | Watkins Glen | NY |
| 2006 | April 21 – 23 (Fri-Sat-Sun) | NASA-Ohio | Mid Ohio | OH |
| 2006 | April 8 – 9 (Sat-Sun) | COM | NHIS | NH |
| | | | | |
| 2005 | October 15-16 (Sat-Sun) | NASA-MA | Summit Point | WV |
| 2005 | Sept 27 (Tuesday) | SCDA | NHIS | NH |
| 2005 | Sept 25+26 (sun+mon) | COM | NHIS | NH |
| 2005 | Sept 24+25 (Sat+Sun) | NASA-MA | Summit Point | WV |
| 2005 | Sept 16 (Friday) | CART | Limerock | CT |
| 2005 | Sept 3-5 (Sat-Mon) FFR Nationals 2005 – fin=10th | NASA | VIR | VA |
| 2005 | Aug 29 (Monday) | SCDA | NHIS | NH |
| 2005 | July 27-30 (Wed – Sat) Skip Barber Racing School | Skip Barber | Limerock | CT |