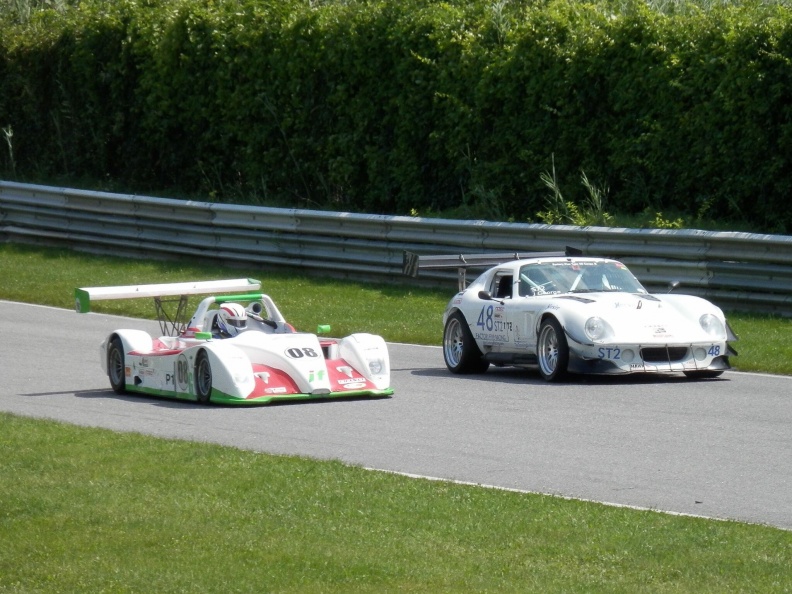 Winner winner chicken dinner! 2 races, 2 wins.
Had such a great time at Limerock with NASA NorthEast August 25-26 (Friday/Saturday) since there is no racing at Limerock Sunday. The weather was perfect the whole weekend, low 70's and sunny. NASA got thrown a curve ball by the race track officials last minute saying there can not be any racing Friday due to town/track agreements that was suddenly getting enforced, so NASA shuffled the schedule around making it possible to have qualifying Friday, and two races Saturday. The same weekend I also signed up for Time Trials (which funny enough were able to run both days without issue as it isn't considered racing.)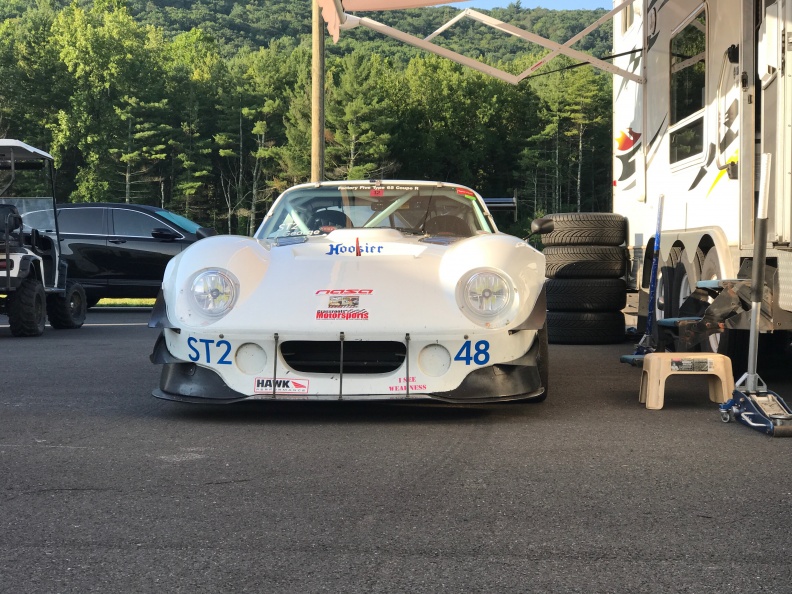 Friday first couple of sessions were warm-up, on super old 245 Hoosier tires. I had some tuning to do to the chassis as the car being run as low as possible was too low for Limerock, under compression going up the hill it would bottom out the frame. Raised the car, changed front springs to try to induce more rear grip, and also added spring rubbers in the springs all around to stiffen the whole car. All those changes worked well. I brought with me 2 full sets of tires that needed to get scrubbed in, so first new set on the car for Time Trial session #2 I slowly build up speed getting the tires up to temp and the last lap set a flyer! that lap turned out to be 56.313 and end up winning the TT2 time trial class Friday.
I am finally getting used to the car, and with the brakes now fixed (changed the rotors to full floating Stoptech) confidence in the car is back. Later Friday the qualifying session I managed to squeeze out a 56.691 putting me first in ST2, and will start 2nd overall next to a prototype car, Ligier JS49 in the SU class (pic above.) Adrian Wlostowski in his Corvette starts p2, 3rd overall in ST2 (his first time at Limerock running 57.588), Alan Cohen p3, John Gatzemyer p4, and Doug Winston p5 having issues with his car.
Saturday Race#1 started off fast with Adrian getting a jump on the start passing me for the ST2 lead. We were nose to tail until his car had some issues with the brakes, his power brake booster hose fell off so he came into the pits, put it back on, and finished the race at 4 laps down. I won easily, and John Gatzemyre finished 2nd. Alan did not compete, he had family duties Saturday and left Friday night, Doug unfortunately blew up his engine.
Race #2 grid was based on the fastest lap you ran in race 1, so Adrian started p1, with me p2, Brian Goldburg in his ST1 Panoz p3.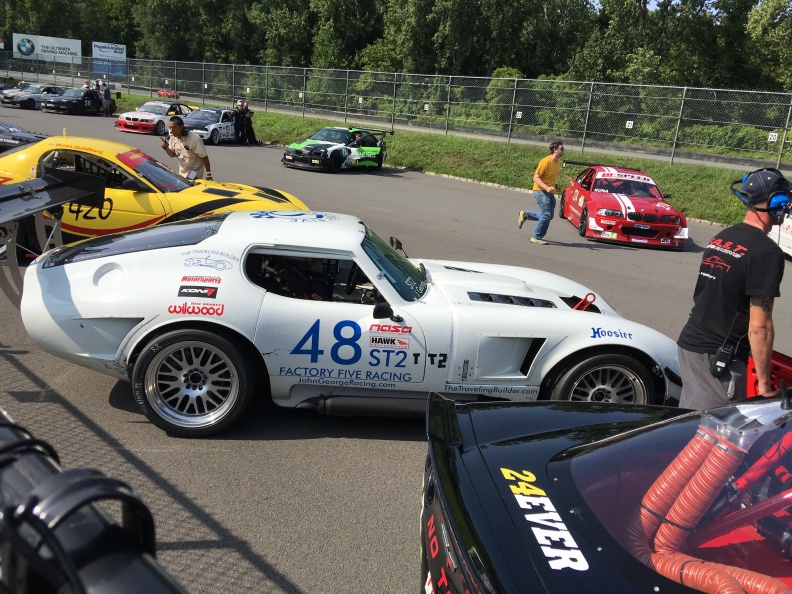 The start of the race Brian got the jump on both Adrian and I, the three of us nose to tail were running fast consistent laps until catching the back of the field. Traffic management would be key to the win of the race, well, it didn't work in my favor early on. A spinning car in turn 1 caused me to evade going off track loosing touch with Adrian and Brian. With them busy in traffic I was able to catch them up. Then a badly timed restart after a yellow flag restart allowed Scott Mohr in his ST1-ish legal ST2 car to get past me taking me a couple of laps to get back around him and setting fast consistent laps to get back to where I was, on Adrian's bumper. The last couple of laps of the race were intense. Brian, Adrian and I slicing through traffic trying to time the passing as best as one could. I got a mean run down the hill and next to Adrian in the braking for turn 1 making the pass happen, then Brian has issues at the top  section, goes off and rejoins just behind me. With Adrian hot on his tail I knew some shenanigans must be had for me to get the win. So, I kept Brian between Adrian and I (sorry Brian, I had to do it!) on the last lap getting the win! What a race! Had to push hard, make up a lot of lost time deficit to get to the front. This video is a good one for sure.
Next race weekend will be Sept 22-24 at Watkins Glen, where we will work on car setup for Nationals.
Pics from the weekend: http://www.johngeorgeracing.com/gallery/index.php?/category/406