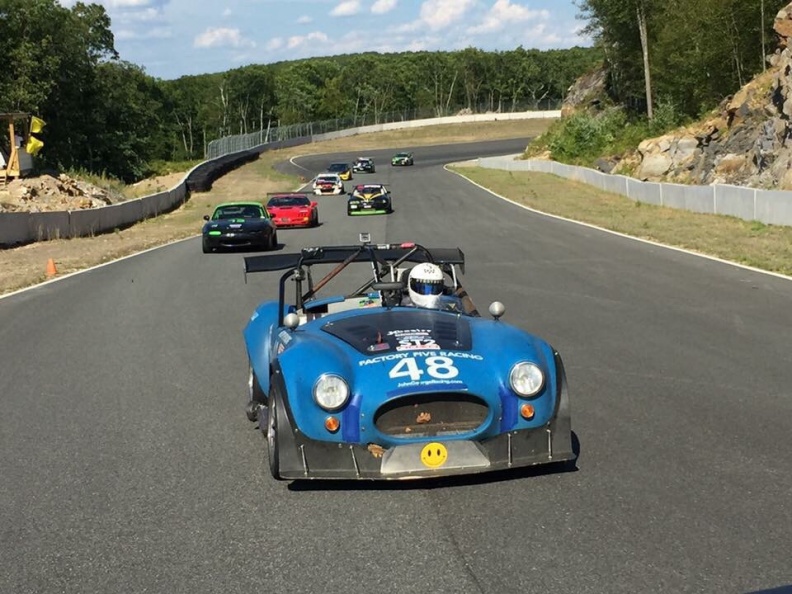 For 2017 I will build a FFR Daytona Coupe street/race car. So…
Multi NASA Nationals winning FFR#48 cobra up for sale! $36,000 firm.
2005 Factory Five Challenge Car in ST2 trim – 2600lb with driver, 343RWHP, 380RWTQ
Street legal! has been registered every year in NH since I built it in 2005.
Engine: Ford 302 Coyote
Transmission: Tremec 3550
Engine Oiling: Aviaid Dry sump oil system
Power Steering: KRC power steering pump, mustang quick ratio steering rack
ECU: Ford Coyote Control Pack with X4 SCT tuner (pre-loaded with custom tunes), and SCT tuning software license to modify tune from a laptop
Datalogger: Racepak G2X with IQ3 display, Oil Press, Oil Temp, Water Temp, Fuel Press, Trans temp, Diff temp, Front brake pressures, Rear brake pressures. Will share historical data files
Brakes: Wilwood 6 piston front and rear calipers, 13″ rotors all around
ABS: Ford FR500S ABS
Fuel cell: Fuelsafe 22Gal Pro race cell with 2 sump pickups and 2 fuel pumps.
Front Suspension: Koni shocks, Modified FFR spindles changing kingpin angle
Rear Suspension: Koni shocks, FFR new 2015 Independent Rear Suspension with Differential cooler
Body: one off 'light weight' fiberglass body
Exhaust: Custom Flowmaster 'quiet' side pipes with inter-changeable exhaust tips (can add supertrapps for quiet tracks)
Aero: Custom front splitter (Pat McMahon design) ARP GTC300 rear wing, Custom vented hood, tonneau covering the passenger compartment.
Seats: 2 x Kirkey race seats, Drivers has head protection
Wheels: 2 sets of Halibrands wheels 9×17 wheels with Hoosier 245/40/17 A7/R7 tires
FFR#48 notebook – track specific car log with tire pressures, fuel consumption, setup for certain tracks, etc.
Laptimes:
Palmer – 1:39.962
Watkins Glen – 2:00.204
NJMP Thunderbolt – 1:25.766
MidOhio Pro – 1:32.695
MidOhio Club – 1:34.516
Limerock – 57.461
Please contact me through email: ffrspec48@gmail.com