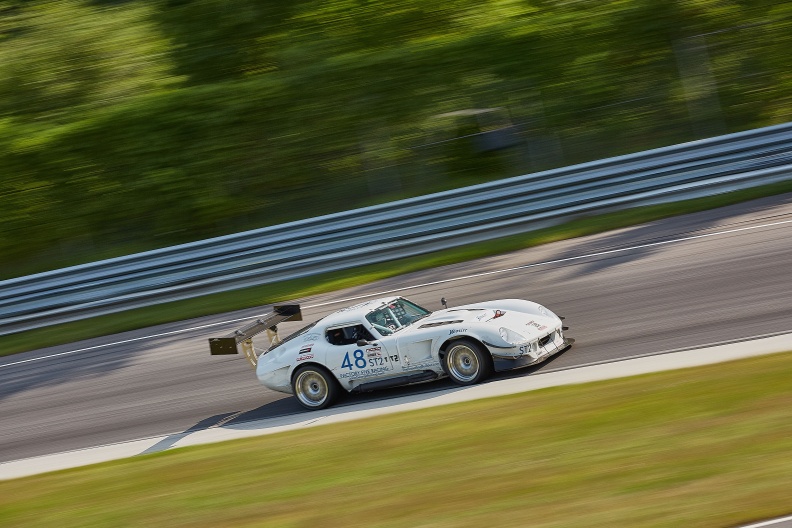 2017 FFR#48 Gen3 Daytona Coupe R is For Sale! Street legal race car!
This famous race/street car was featured in Grassroots Motorsports multi-page article December 2017 issue. FFR#48 Gen3 Coupe R was also utilized by Factory Five Racing for aero wind tunnel testing, and shock/suspension testing. The Factory Five Gen3 Daytona Coupe spaceframe chassis is 10 times stiffer than the Gen2 Daytona Coupe, and 5 times stiffer than the FFR Challenge car!
Campaigned in 2017 race season, FFR#48 podium-ed all National Auto Sport Association (NASA) ST2/TT2 races entered, won 5 out of 7 races and finished 3rd in the other two. It was invited to run at the Grassroots Motorsports Ultimate Track Car Challenge 2017 placing the 7th fastest time out of 50 cars with a laptime at VIR of 1:58.985.
Laptimes:
May @ NJMP Lightning laptime – 1:09.249
May @ VIR – 1:58.985
June @ NJMP Thunderbolt laptime – 1:25.515
July @ Pocono Double Infield CCW – 1:33.231
New England Dragway on street tires 12.239 @ 115.47mph
August @ Limerock laptime – 56.313
#48 Gen3 Coupe R was built with the help of The Traveling Builder Mark Dougherty, his son Brendan, Sean Lingle and me, starting Jan 1, 2017 and over 5 build weekends in time to make the March 2017 VIR track day.
On debut, first time on track it lapped VIR  2:00 on used 245/40/17 Hoosier A7 tires, with the brakes or car not sorted fully.
Over the rest of the 2017 season, the car was fully sorted out, and optimized for NASA ST2/TT2 rules. It does over 2G's in lateral acceleration on race tires, with the top speed of over 150mph. It is well setup and handles neutral to slight under-steer on track. The braking performance is astounding. Setup notes and over 12 years of FFR race car knowledge will be shared with the buyer along with a copy of the race notebook known as 'the FFR#48 bible'.
This is a serious, multi race winning race/street car and I see no reason why it cannot win at the NASA Nationals 2018 @ Circuits of the Americas (COTA) F1 race track September 2018.
It was driven on the street many times, and most notably to the 2017 Factory Five Open House from NH over 200+ miles round trip with all of the aero bolted on getting many thumbs ups from fellow motorists.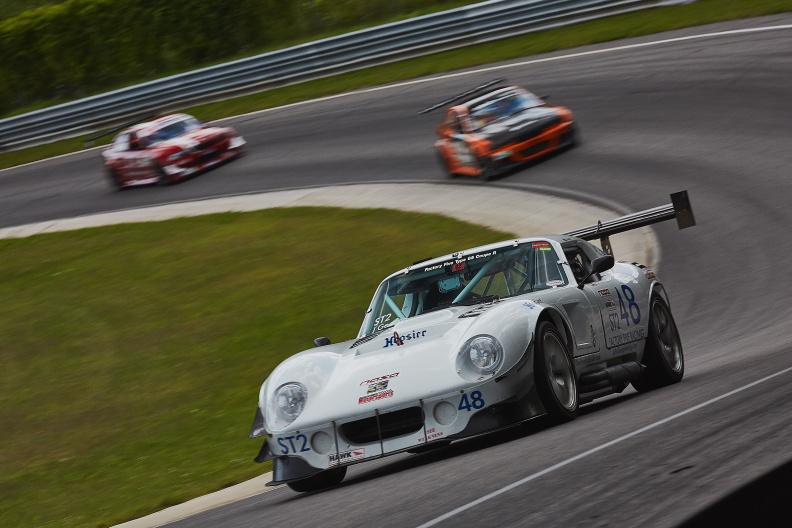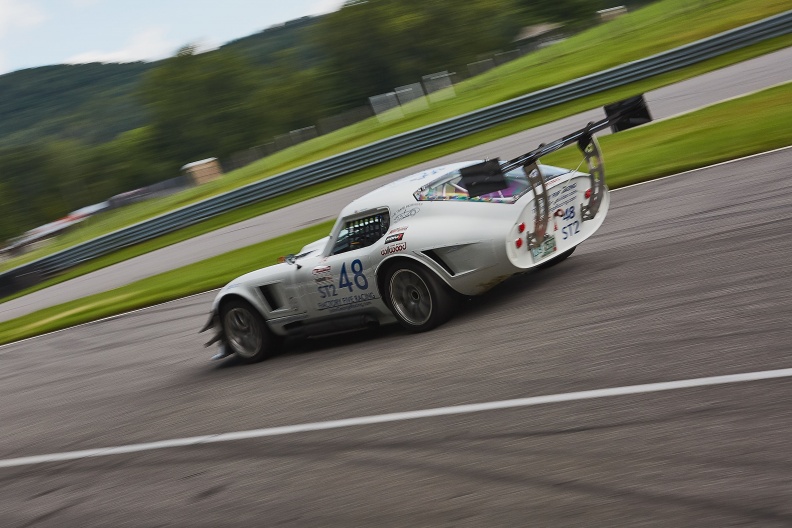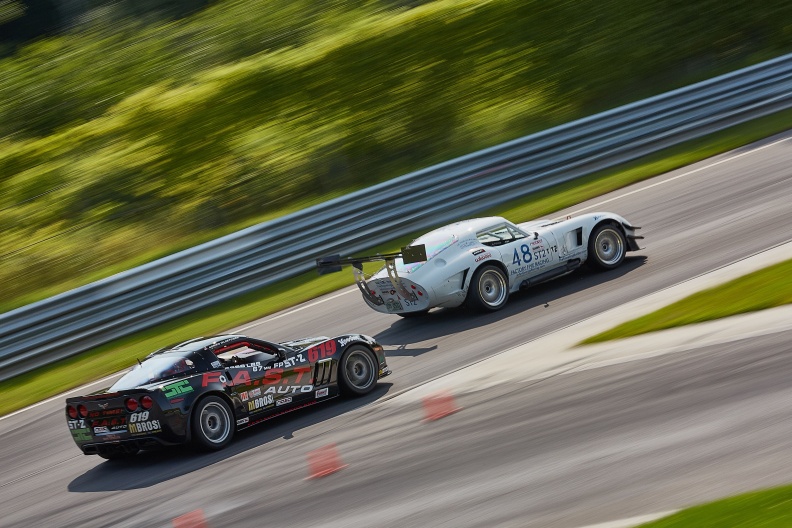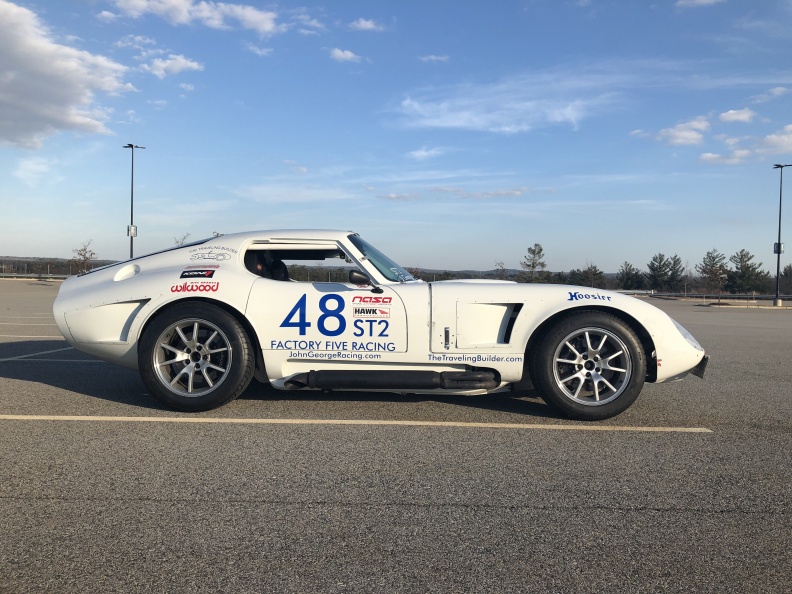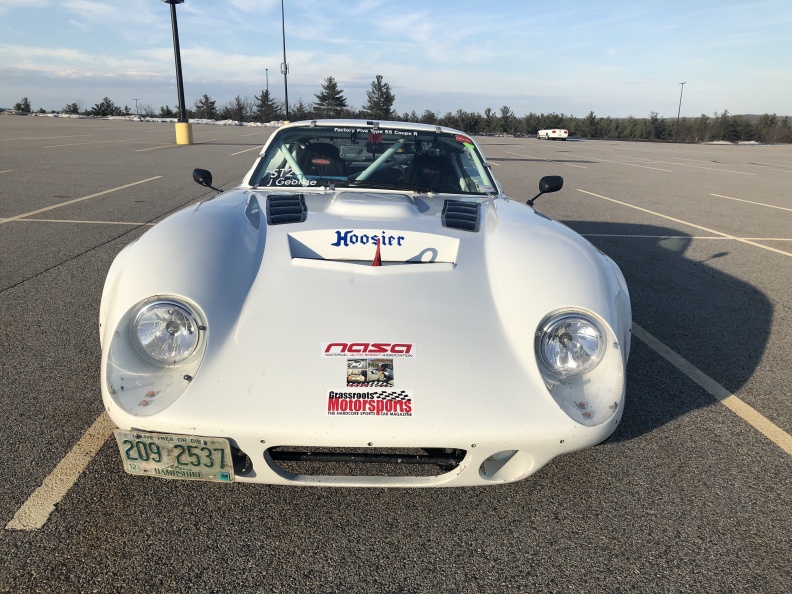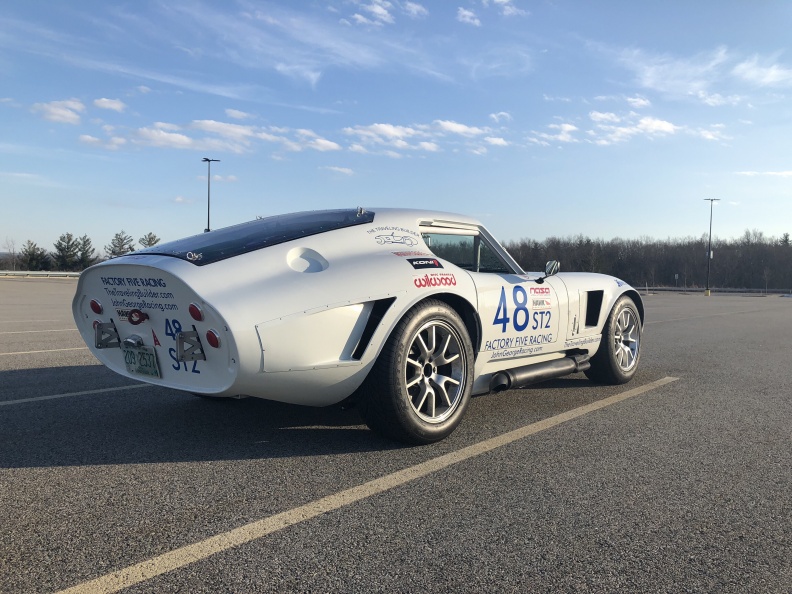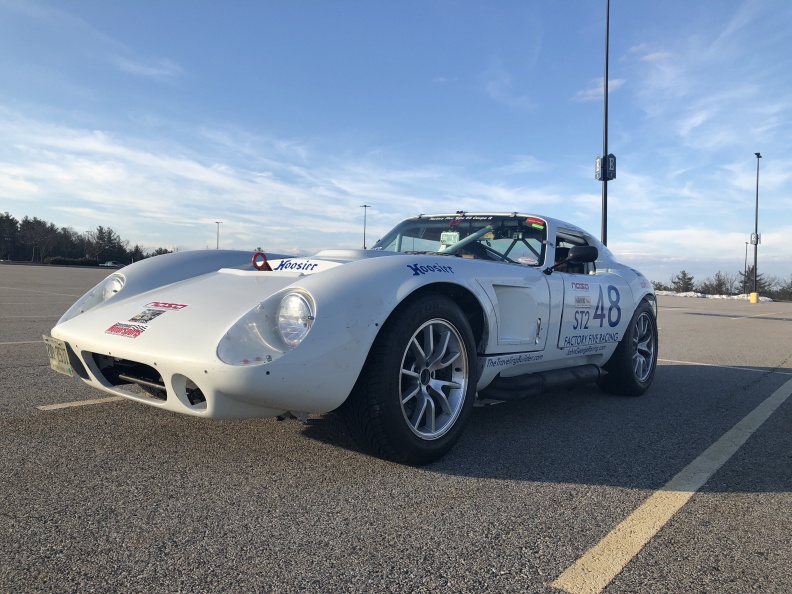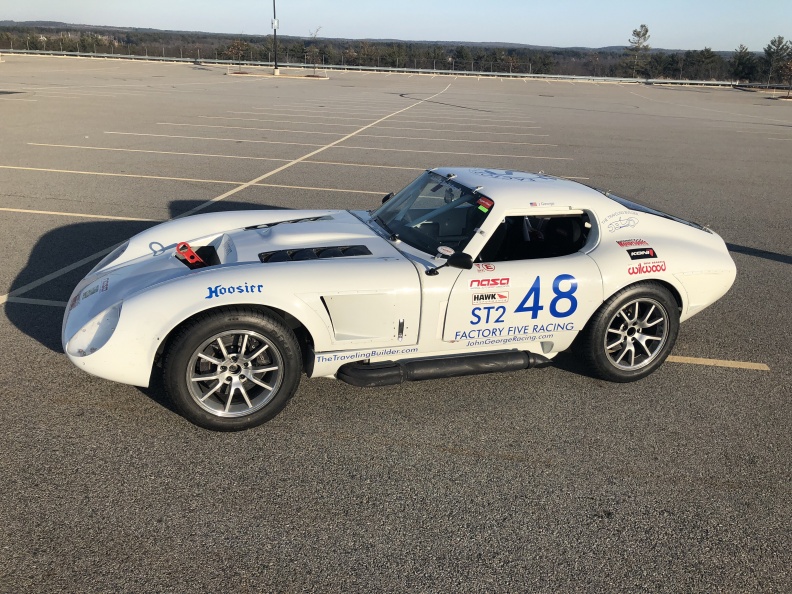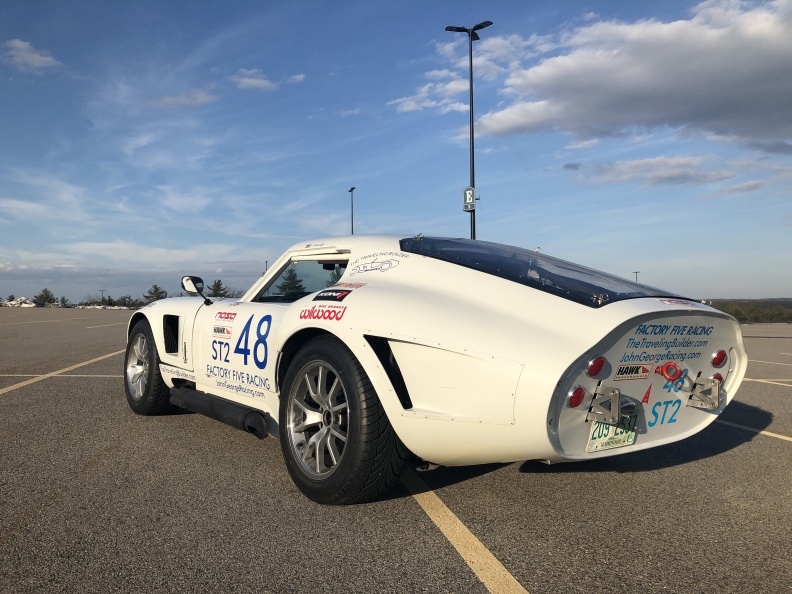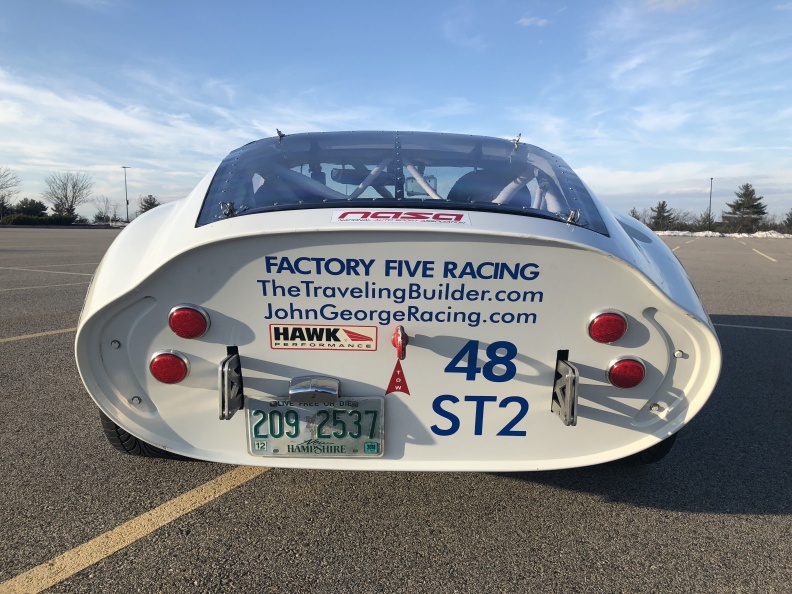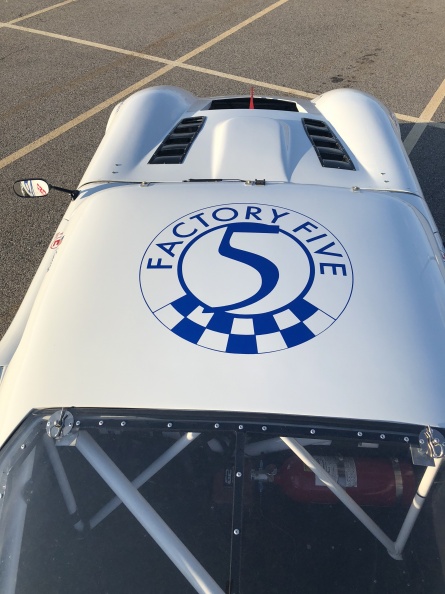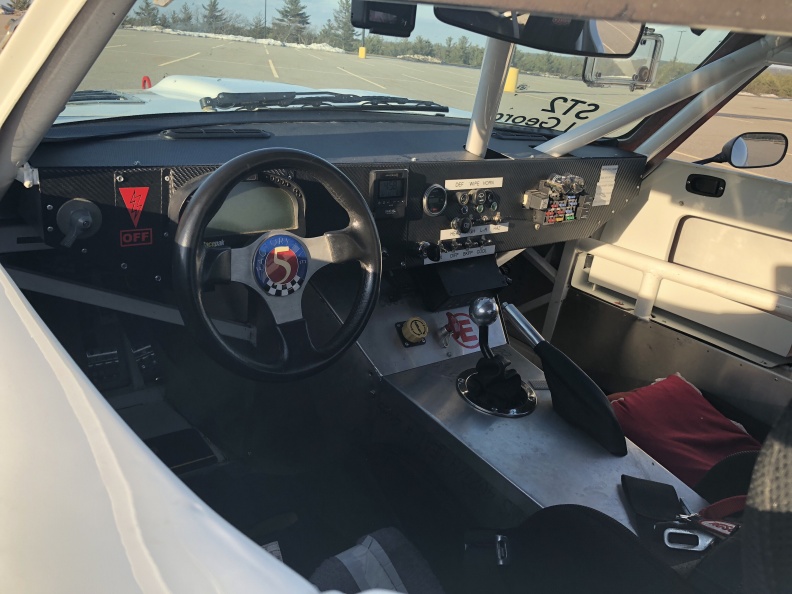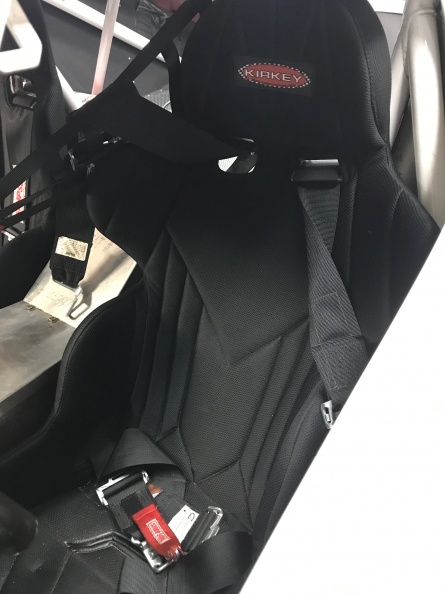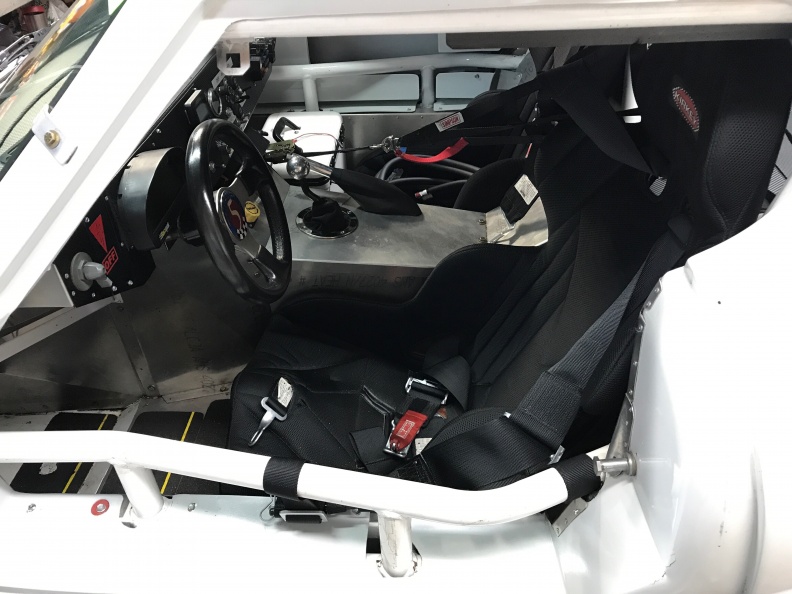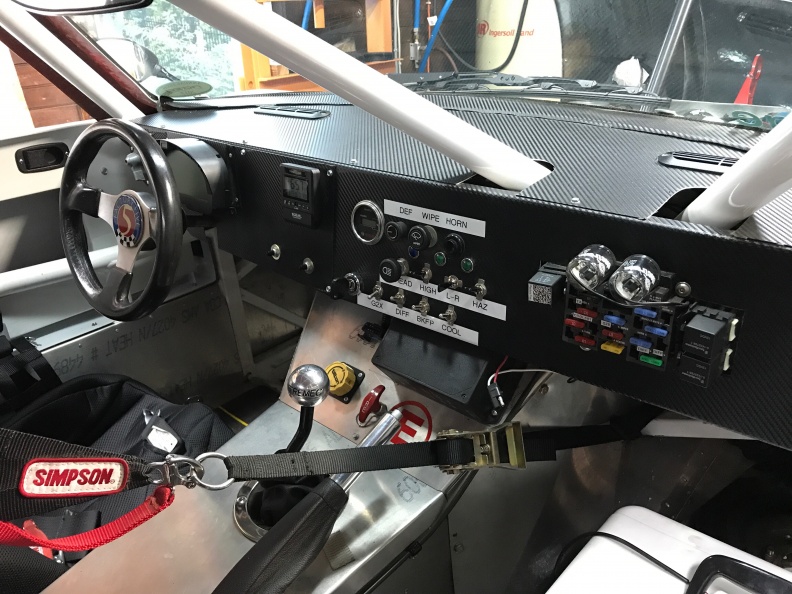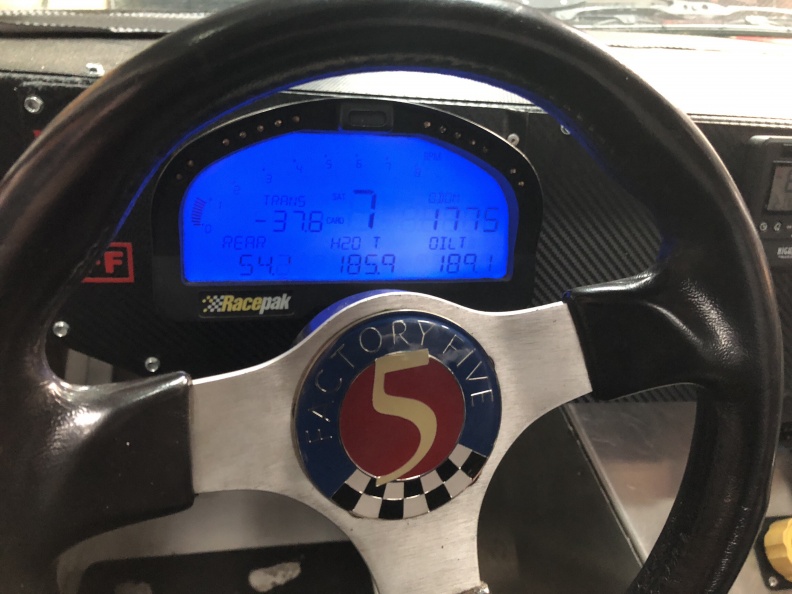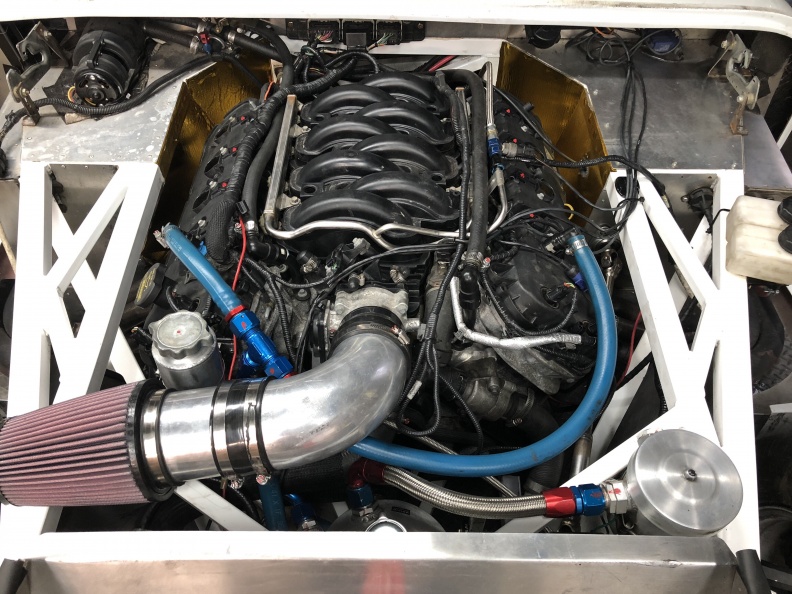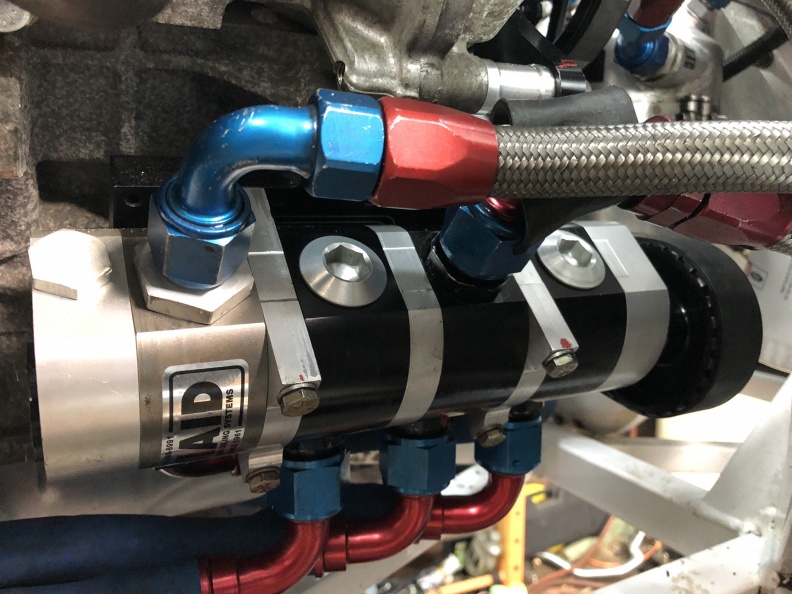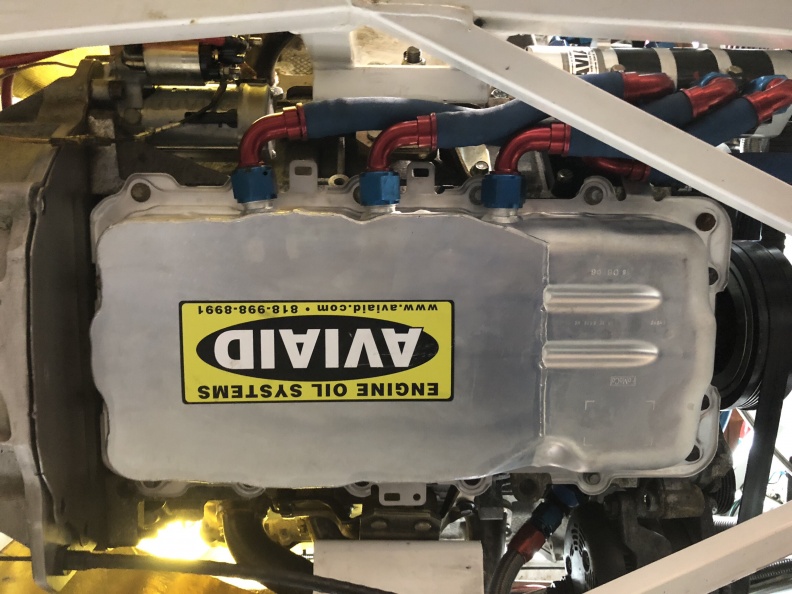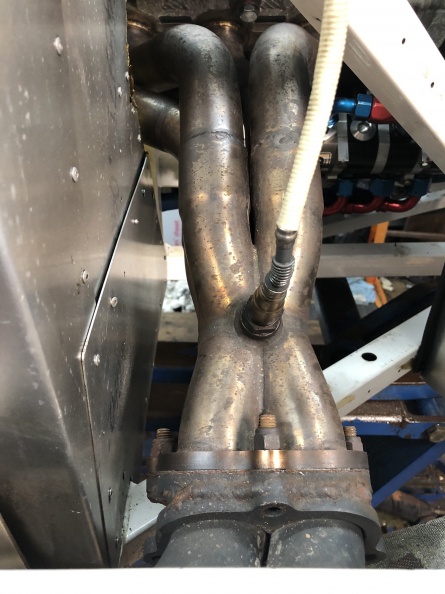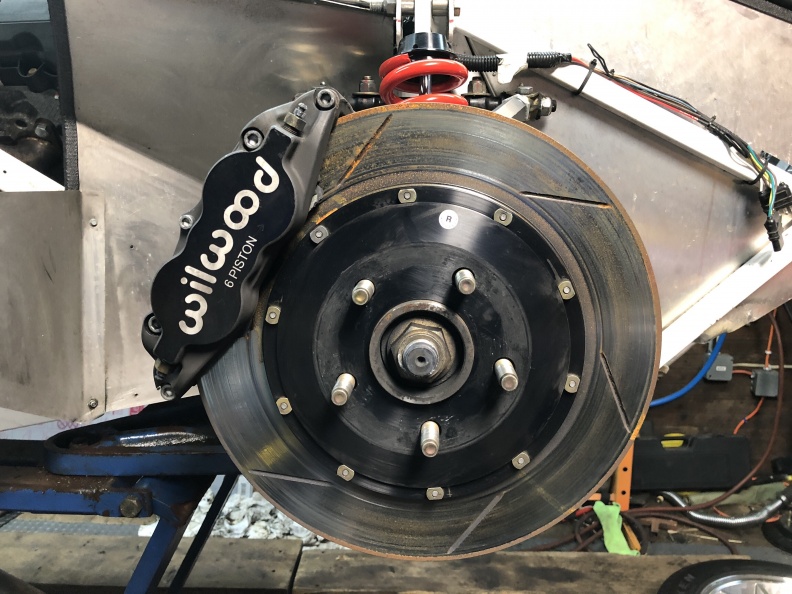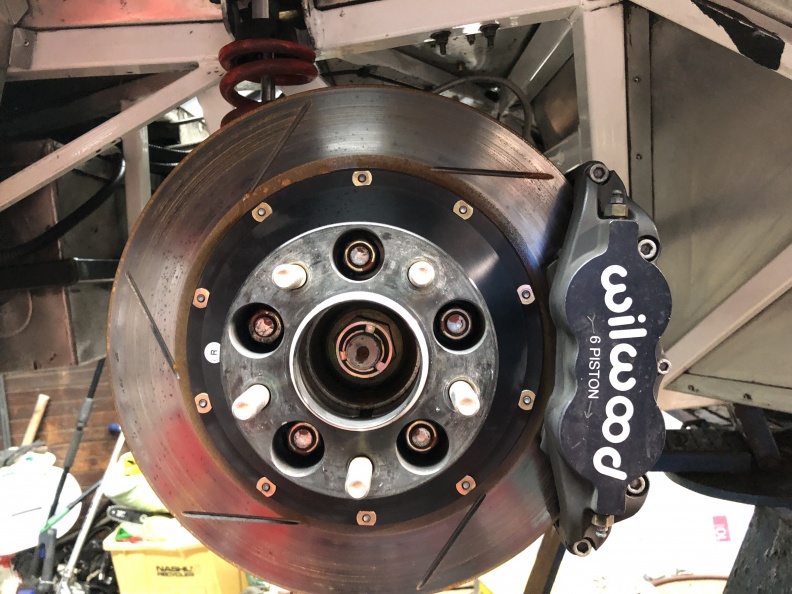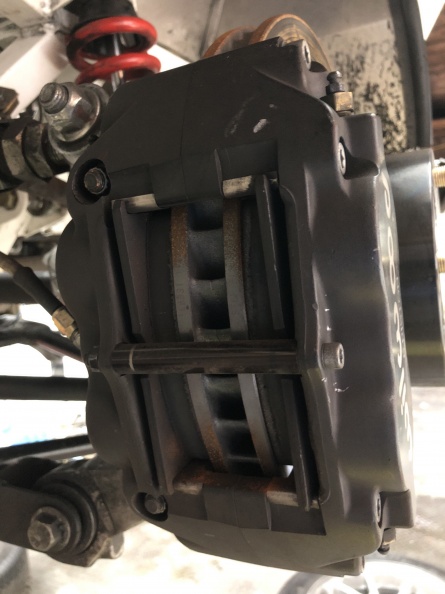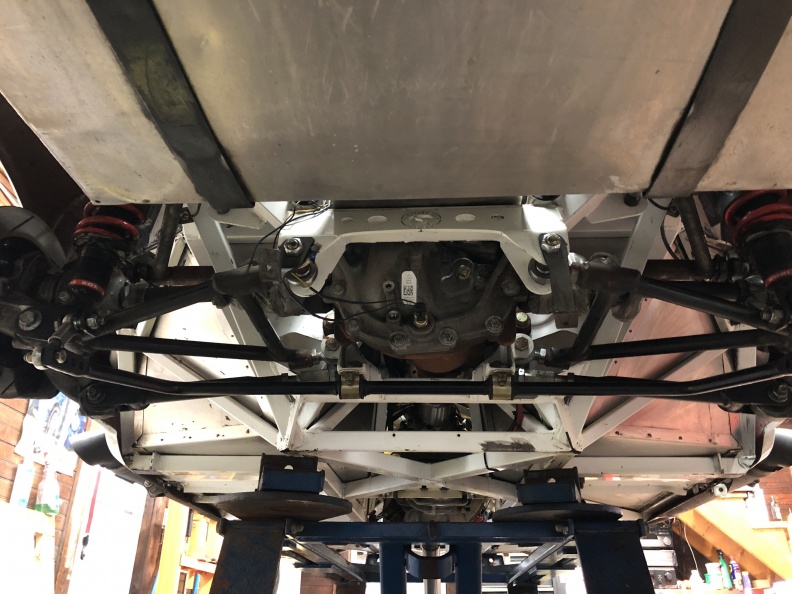 Part #s used in the build: http://www.johngeorgeracing.com/wordpress/ffr48-car-setup/part-numbers/
Car Setup info: http://www.johngeorgeracing.com/wordpress/ffr48-car-setup/
Pictures from the build: http://www.johngeorgeracing.com/gallery/index.php?/category/382
All Race Reports from 2017: http://www.johngeorgeracing.com/wordpress/?s=2017
---
2017 Factory Five Type65 Gen3 Coupe R Chassis #F5R1000005DC
1775 Miles, 44 hours on chassis
Street legal – NH title.
NASA ST2/TT2 legal – 8:1 weight/power ratio.
Ford F150 Coyote engine producing 365RWHP
SCT X4 handheld tuner, along with SCT Race tuning software. Custom tune files to meet hp/weight limits for class.
Aviaid 4-stage dry sump oiling system for Coyote engines
4into4 headers
Custom side exhaust with quiet pipes and interchangeable exhaust tips.
RAM 10.5″ 26spline clutch
KRC Power steering pump
Tremec TKO600RR 5speed with .82 5th transmission
2015+ Ford Mustang Torsen Diff with 3.73 gears
Custom modified FFR front spindles for better kingpin angle
FFR IRS using 2015+ Mustang IRS spindles/pumpkin
Koni 3012 double adjustable shocks
Heim joints in all suspension
Wilwood dual master cylinders with cockpit adjustable brake bias
Wilwood 6-piston front and rear brakes, with .8″ thick race pads
13″ Full floating 2-piece Stoptech rotors front and rear
Removable FFR front splitter with cannards
Removable APR GT1000 rear wing
Removable custom rear diffuser
Pin-on custom Lexan rear hatch
Trunk fuel fill with access panel.
22gal Fuelsafe fuel cell with custom 2-sump pickups inside fuelcell for optimal fuel pickup
Drivers windshield wiper
Window Defrost
LED headlights, turn signals, hazards, horn.
Easily accessible fuse box
Racepak G2X Datalogging system with IQ3 digital display dash
Coolshirt driver cooling system
Custom access panels for replacing starter, getting to bellhouse bolts
Front and rear tow hooks
Driver and passenger Kirkey Race Seat
Driver window net
Driver side net
NASA race log book
Spares list coming with the car:
1 x Aviaid 4-stage pump with cog wheel, spare cog belt.
1 Front hub assembly
2 Rear IRS spindles (left and right)
2 Rear IRS hub assemblies
3 sets of Rear IRS axles
Left and Right 6piston Wilwood calipers
2 sets of new Hawk DTC-70 brake pads
2 sets of 1 heat-cycled Hoosier A7 245/40/17 on FR500 17×9 silver wheels
1 set of 6 heat-cycled Hoosier A7 315/35/18 on XXR 18×11 silver wheels (CCW replica wheels)
1 set of rain Hoosier 225/245/40/17 on FR500 17×9 silver wheels
1 set of street wheels 255/50/17 on FR500 17×9 silver wheels (raising the car for better street-driving ground clearance by 1.5″)
All F150 spare Coyote sensors, coil packs, fuel rail, engine wire harness, throttle body, etc.
Ford Racing CobraJet Intake manifold (adds 20-30rwhp) with large oval throttle body
Used power steering rack and outer tie rods.
2 x new outer tie rods.
Assortment of metric and standard bolts in organizing cases
fluids (engine oil, trans oil, diff oil)
RAM clutch kit set (Pressure plate and clutch)
clutch cable
Stock uncoated FFR Daytona Coupe exhaust – never installed
Springs package – lots of 2.5×8″ springs
Asking $65,000. The car is located in Southern New Hampshire.