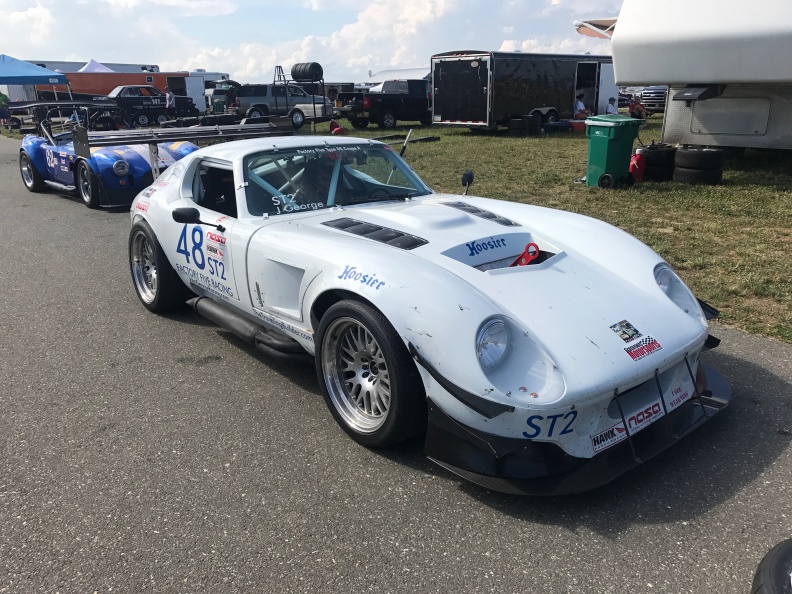 The first two wins in the new Factory Five Racing #48 Daytona Coupe Gen 3 R!
This past weekend NASA Northeast racers gathered at NJMP Thunderbolt and had some great racing. Mom and I made the long haul to NJMP from NH. In attendance paddocking together were Wayne Patterson in his 427ci FFR Challenge car, Scott Chambers in his AIX mustang and Nick Derosa in his GTS2 BMW.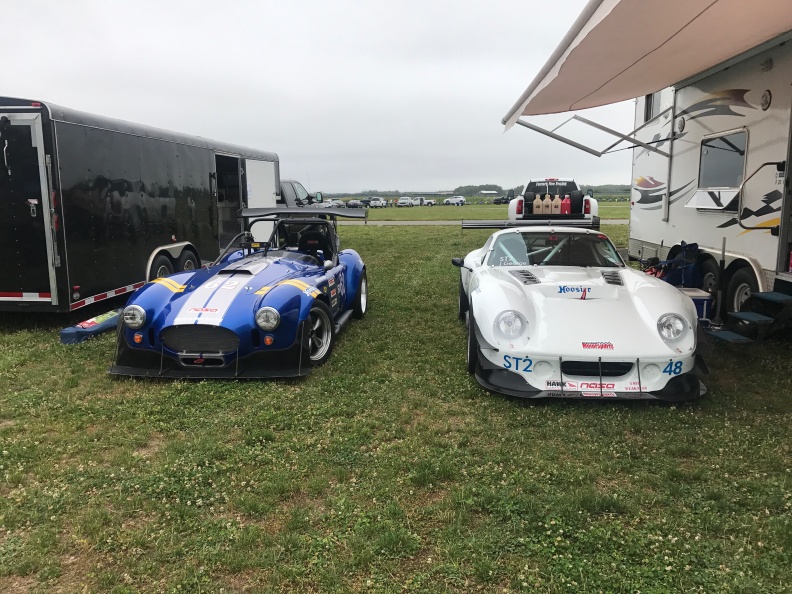 Friday test day was uneventful with a total of 4 practice sessions. Still battling front pad knock-back and will try to put on the stock 1998 Mustang Cobra R brakes back on to test to see if floating calipers remedy my problem later in the weekend. I also participated in the Comp school fun race Friday evening and had fun picking on (I mean mentoring) newly licensed racers including Mike Phillips, in yet another Corvette soon to be in ST2 trim!
Saturday schedule was practice in the morning, qualifying around lunch time and race in the afternoon. I decided to skip practice as new tires were getting fitted to the wheels I would be using the rest of the weekend, and got plenty of running the previous test day. This allowed me to spectate the Thunder race group, and was finally able to witness Wayne driving by at full tilt in his FFR Challenge car with the big block engine. Wow that thing sounds great!!! Adrian Wlostowski in the Corvette – my usual competition was instantly up to speed running a 1:25.499.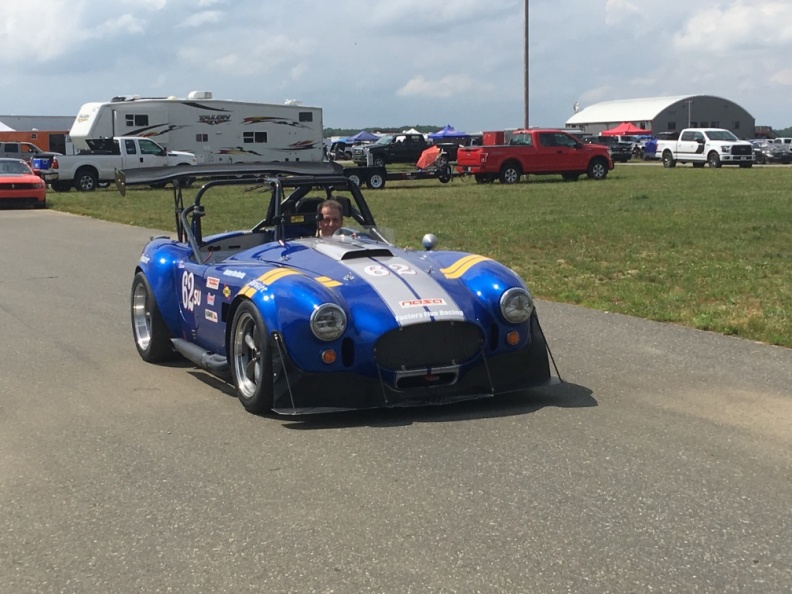 Wayne heading for practice
Qualifying Saturday was very interesting due to weather, it threatened to rain all day, and when we went to line up for qualifying the drizzle started. Both Adrian and I were on dry running tires, with Adrian making the move first to get out of line going back to swap tires. I followed Adrian's lead. Wayne with no rain tires on hand pulled his car back into the trailer. Nick and Carl Thompson helped me change to the wet weather wheels/tires and I go back in line right behind Adrian. Grid released the cars on track and right away we get black flagged due to a couple of cars having off's due to lack of traction. Unfortunately Mike (new rookie racer) was one of those who had an incident 🙁 They brought all the cars into the pit lane while the track collected the stranded racers. Once everything was cleaned up we go to qualify again, but with no real dry or clean running track both Adrian and I were unable to set a fast lap, we would start the race Adrian in p5, and me in p6. Our fellow ST2 competitor in a Mitsubishi Evo John Robbins started p1.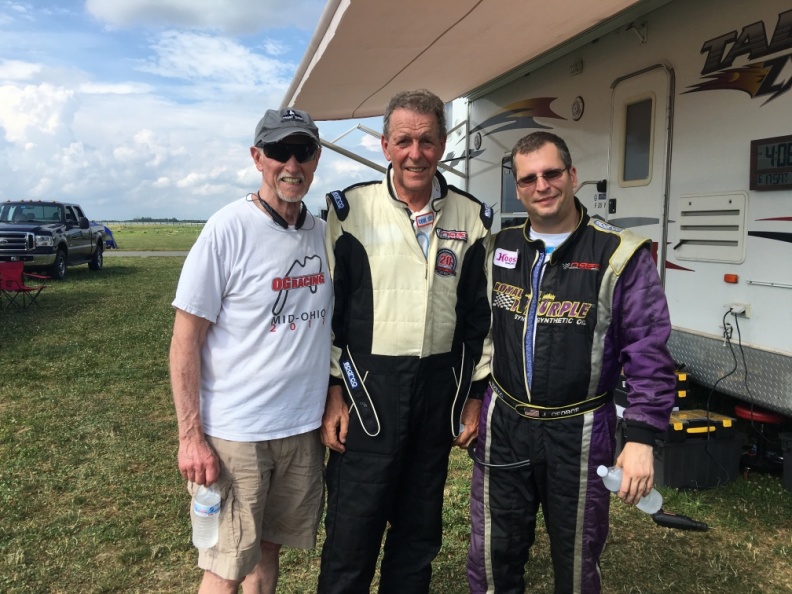 Carl Thompson came to visit once again, Wayne in the middle and me on the right.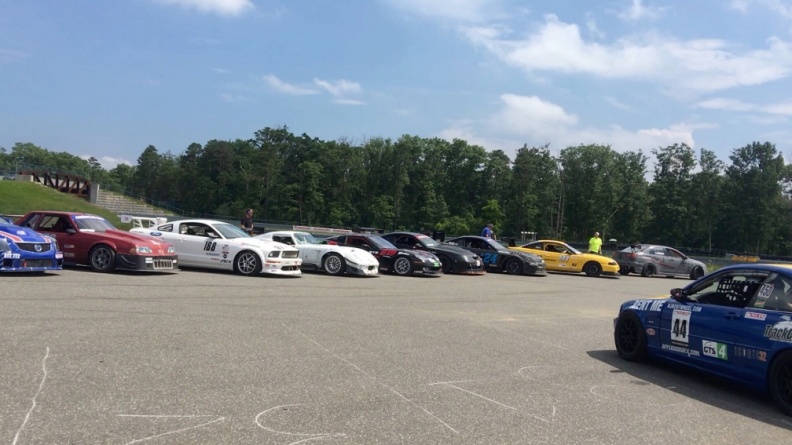 The race started with Adrian and I chasing hard John in the Evo and by lap 1 we had passed John for the lead of the race overall, me shadowing Adrian. Both were pushing real hard and were lapping some fast laps with Adrian having the advantage on the straights, and me really catching him up in turn3 the very fast kink. Adrians car seemed very loose, he was sliding the rear of the car more then usual, so I maintained the pressure. His car had an issue and close to the end of the race I see steam coming from the left side of the car and him instantly pulling to the right letting me through. His serpentine belt running the water pump and power steering broke forcing him to retire from the race giving me the win, and I even won overall in the Thunder race group! John in the Evo came in 2nd, Alan Cohen in the Cadillac CTS-V 3rd, John Gatzemeyer in another Corvette 4th, and Adrian classified 5th 4 laps down.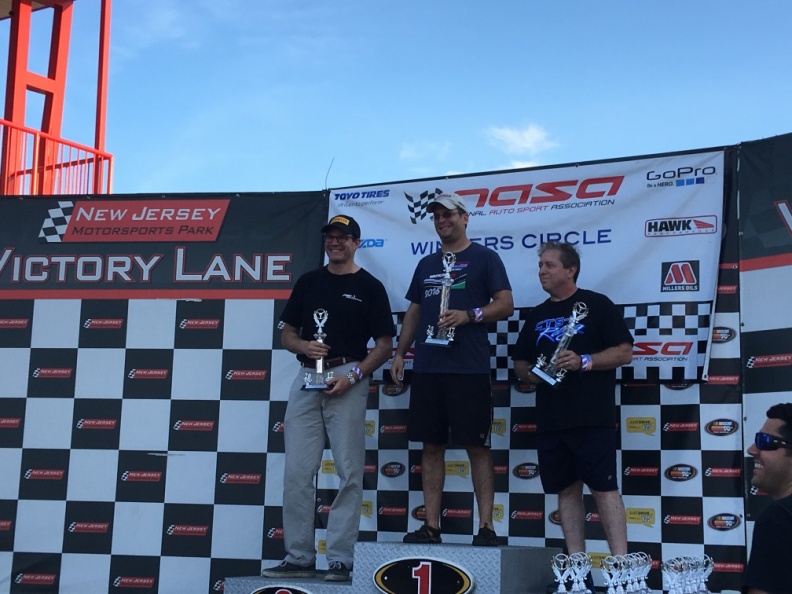 The ST2 podium
I dedicate this first win to Mark and Brendan Dougherty! Unfortunately they were not able to see the first win in person due to work conflicts, without their help at the beginning of this year building from the ground up this new FFR Gen3 Daytona Coupe this win would not be possible. These guys are the BEST! Thanks again for all your help!
Nick Derosa had a great race in his GTS2 BMW winning his class and overall in the Lightning race group! 2 winners staying in the same RV! awesome!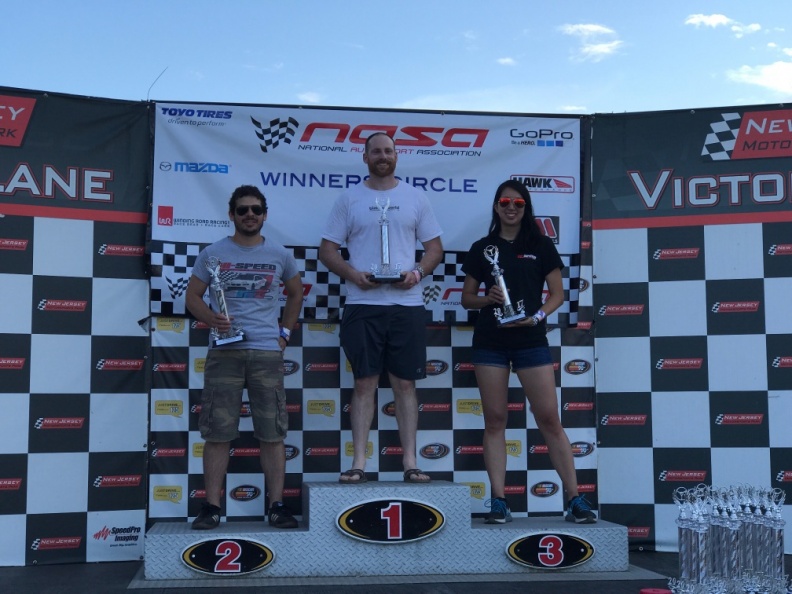 GTS2 podium
Saturday night after the weather cooled off a bit I changed the front calipers to stock mustang parts hoping this would resolve my pad knock back issues.
Sunday, Fathers day, was a combined practice/qualifying session early, then a lot of sitting around waiting for the race to start late in the day. Jake Namer arrived at the track with his Mazda RX7 rotary powered ST2 race car and quickly set the pace putting his car on pole with a 1:24.912. I would start second setting a lap .213 seconds slower then Jake's time with a 1:25.125. Adrian P3 running the same identical .213 seconds slower then me with a 1:25.338! John in the Evo had issues unable to set a competitive time.  Unfortunately Alan in the CTSV had transmission issues, and John in the Corvette had other commitments. The calipers I had swapped out helped and resolved my pad knock back issue!! I had consistent brakes not having to pump them for every braking zone. How nice! except they were not as good as the Wilwood race brakes I took off, having to get on the brakes a full 50-100ft sooner.
So, the stage was set for what would be a very exciting three way battle for the overall lead in the Thunder race group pitting a Mazda RX7 vs C6 Corvette vs FFR Daytona Coupe Gen 3R slicing and dicing through traffic.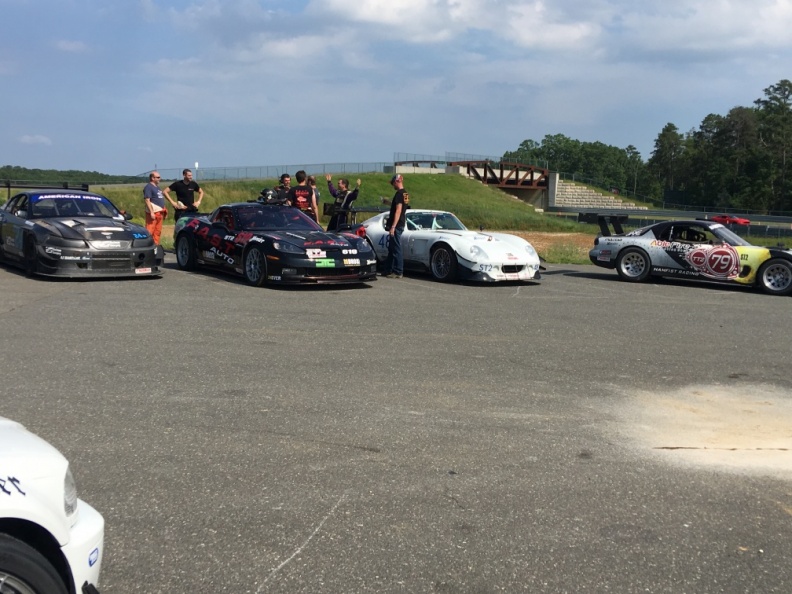 The race started fast and frantic, Jake, Adrian and I leaving the rest of the field setting some crazy fast laps while battling each other for first. I hopped into the lead early on, watching in my mirrors Jake and Adrian swapping positions, then Adrian eventually caught and passed me, followed by Jake, then repeat the whole thing over. This is what racing is about, hard clean racing, setting up the pass, taking lapped traffic in account, being consistent. The temperature all day was hot and steamy, 102 deg in the shade and 90+% humidity! It was really really hot in the race car, without the cool shirt driver cooling system I installed at VIR I would probably be too hot to race. That is what happened to Jake with 4 laps to go! He was on my tail and starting to make mistakes, eventually going of in turn 1. He decided to retire the car parking it close to the flag station at turn 2 as he was way too hot in the car. Adrian had passed me for the lead  a couple of laps previous getting a mean run onto the front straight when I was balked by lapped traffic splitting us in the middle. With the race about to finish I kept the pressure on, and Adrian's car still loose, oversteering a lot, ended up spinning right in front of me! I came to a stop making sure he and I did not make contact, but I was able to get going faster then him winning the race!This makes 2 wins for me! Could not have asked for more!
If you don't usually watch my race videos, this is one to watch! It gets real exciting from mid way to the finish.
Nick unfortunately had an incident in his GTS2 race Sunday, making contact with the wall in turn3. He is OK, but the same cannot be said about his car. We helped him load up the damaged car on his trailer and towed together back north late Sunday night arriving home around 2am next day.
The next race weekend is at Pocono July 7-8, hoping more of the same hard racing with the fellow ST2 competitors!
Pictures from the weekend:
http://www.johngeorgeracing.com/gallery/index.php?/category/401