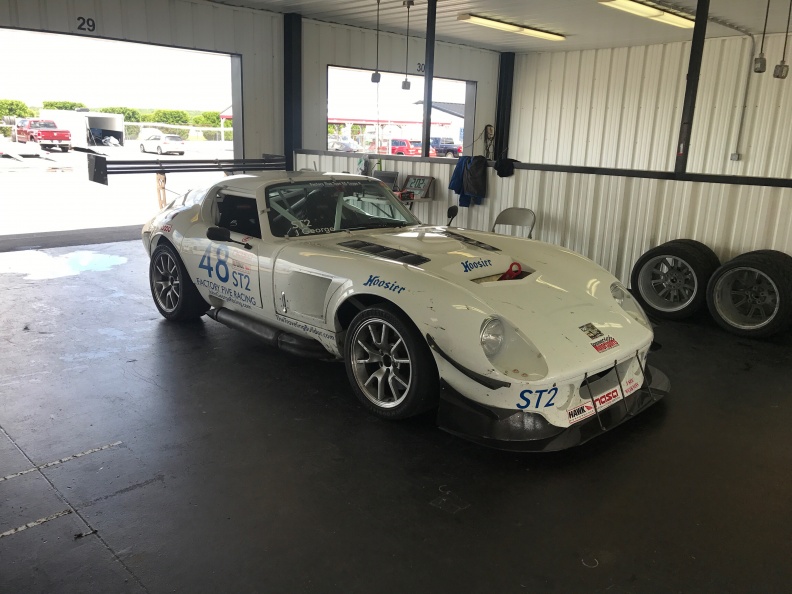 Drama at Pocono!
NASA North-East Round 4 event was held at Pocono Raceway this past weekend. Making the 5 1/2 hr haul with me from NH is my grandmother, Clemanta making the haul go fast with many stories told.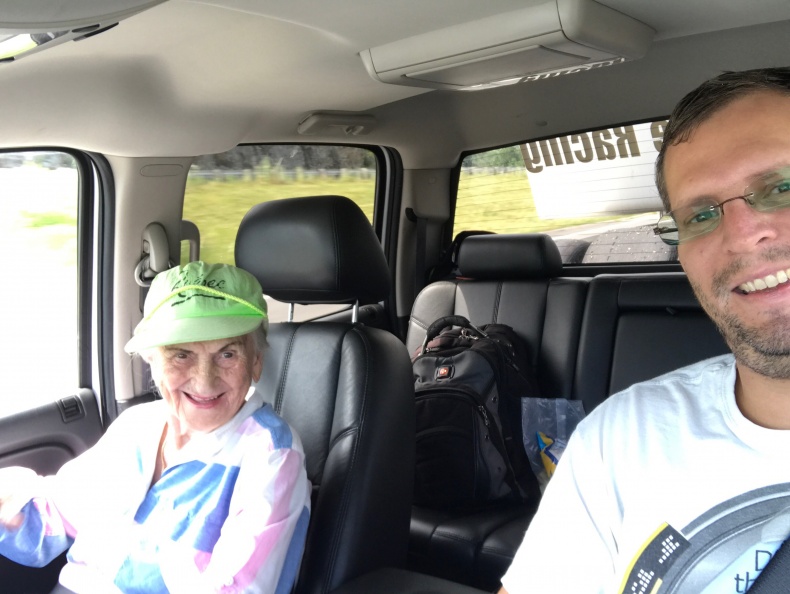 In attendance for the ST2 class was Jake Nader in a Mazda, John Gatzemeyer in a Corvette, John Robbins in a Mitsubishi EVO, Paul Plemenos in another Covette, and I in the FFR Daytona Coupe. Something different, we would race Friday and Saturday as there was another organization that had rented the track Sunday. I rented a garage for the weekend and was paddocked next to Brian Goldburg's Panoz.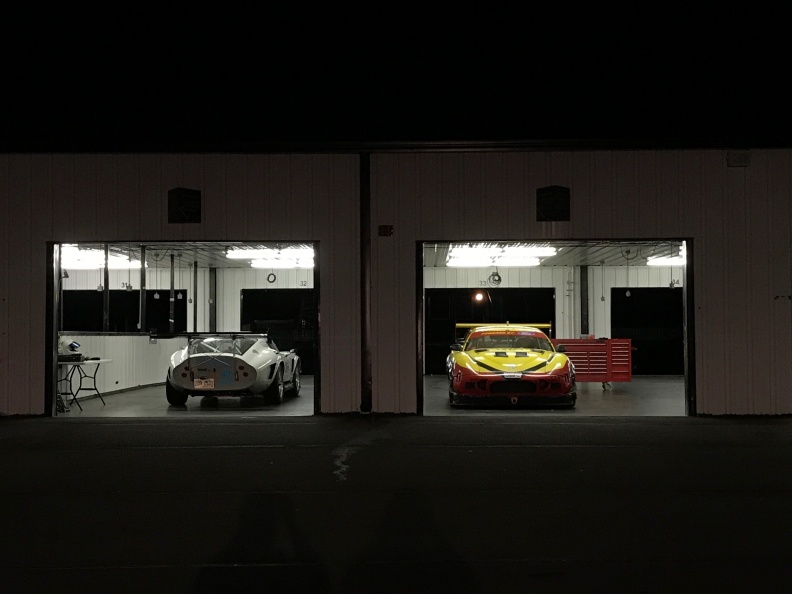 The track configuration all weekend would be the North and South chicanes, counter clockwise using the front NASCAR straight and the tunnel turn. This I believe is a new configuration to me so I had a lot of learning to do. Friday practice session was wet, I decided to skip it and wait for qualifying to have my first session.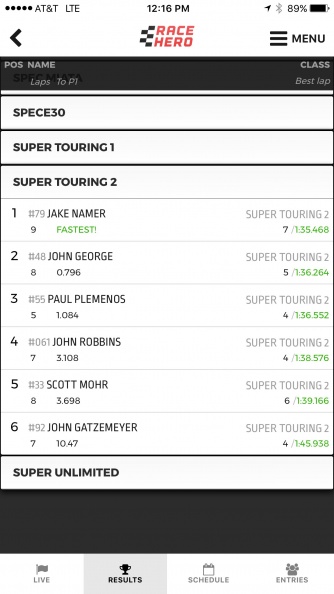 I qualified well, 2nd in class and the times close looked to be a good race shaping up.
On the out lap Paul Plemenos has a problem starting his Corvette and is forced to start at the back of the field. At the green flag Jake in the lead into turn 1 getting passed by Scott Mohr who is actually running SU as his ST2 Corvette just had a new engine put in. Scott finally gets past us both and some side by side action with Jake ensues. Having a great battle, until a double yellow for a stranded car. At the restart Brian in his ST1 Panoz (different class then I) led us slowly to the green flag and had a mis-shift allowing Paul, John R., and Scott, to get past me. I had some positions to make up but had Jake on my tail. Jake eventually got by me but Scott had a moment in turn 1 allowing all of us to pass. Then came the second double yellow flag. The next restart I had a good jump and passed Jake, now not on the trail of John R who was defending his 2nd place position heavily. We were side by side in the north course and made side to side contact. I continued on and finished the race in 2nd, Paul won, Jake 3rd, John Ga. got 4th, John 5th.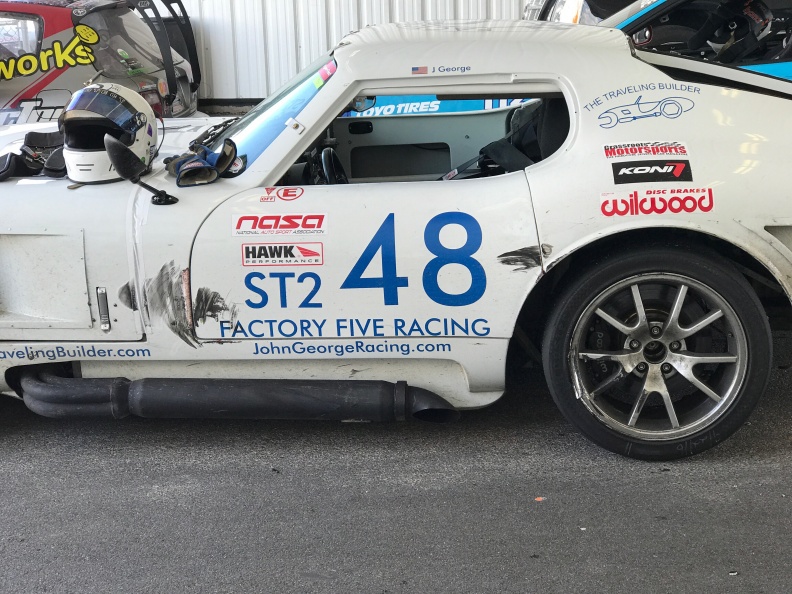 After the race a very unfortunate incident occurred in impound, never in my 12 years of racing NASA has this ever happened to me or anyone that I know. John R.'s crew guy lost his cool and threw something at the rear glass hatch of my car shattering it completely. His poor decisions were very unfortunate and as NASA rules state the crew is the responsibility of the driver and thus reflects poorly on the driver, which they promptly ejected from the event.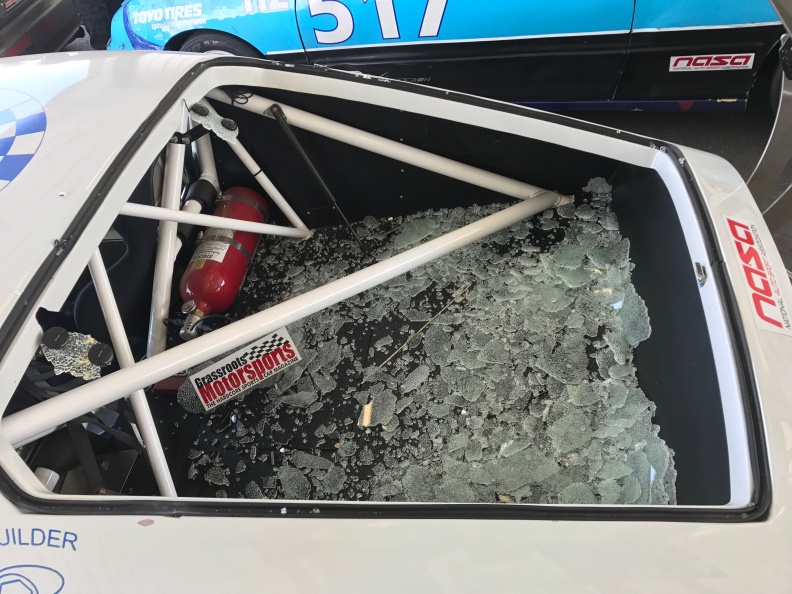 Post race review by the race director looking over video, talking to both drivers deemed the contact a racing incident awarding me 2nd place.
More drama ensued as after the race finding out that Paul, on the out lap, overtook some cars trying to get back to his initial start position, disqualifying him from the race and promoting me into 1st in ST2!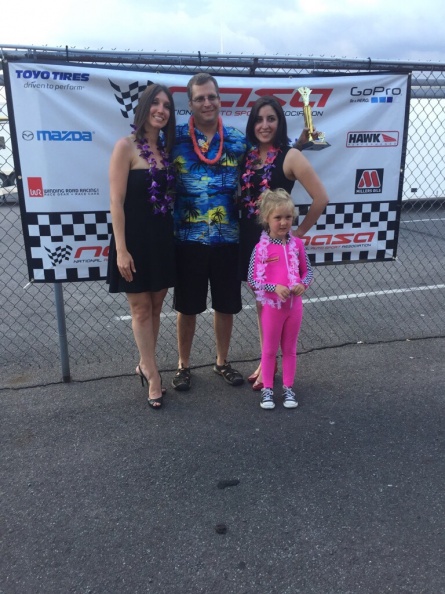 Saturday's qualifying was interesting without the rear glass hatch affecting aero making much more drag on the car. The car was very loose at the back end! Even so I managed a 1:33.393 securing 2nd behind Jake's 1:32.736. Learning the track sure helped. The race was a great battle for the lead with Jake, side by side in a bunch of places, me outpacing him on the straights, he better in some turns, especially coming onto the front straight. The battle was tight until my fuel pressure started being erratic. I knew right away what it was, not enough fuel! I only put in 7gal of gas in the tank thinking that would be enough for the race (counting on a double yellow! which never happened) so, 3 laps short of the finish I pulled off the racing surface finishing 3rd in class, Jake took the win, with John Ga. 2nd.
Next race is at Limerock August 25-26, another Fri-Sat race. If you are local(ish) please come on down and watch the racing, should be a much better ST2 car turnout with the usual suspects coming out to race.
Pics: http://www.johngeorgeracing.com/gallery/index.php?/category/403