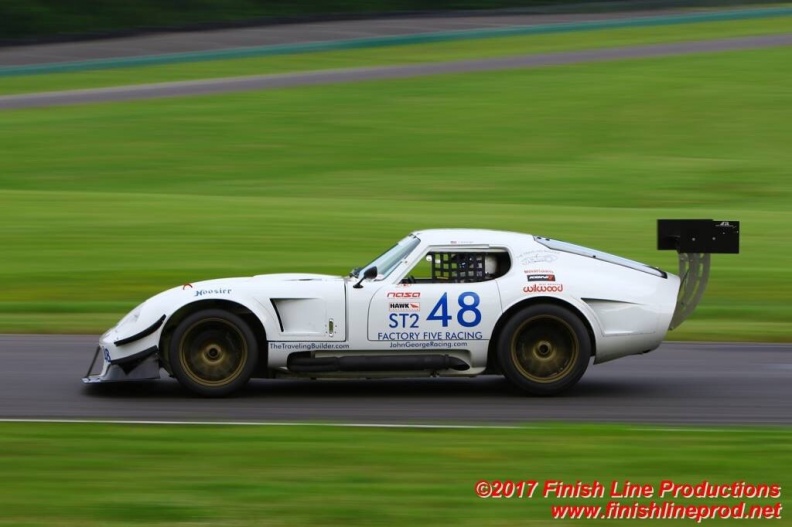 Mission accomplished! Under 2 min laptime at VIR!!!
Factory Five Racing asked me to run in the Grassroots Motorsports Magazine Ultimate Track Car Challenge (UTCC) held at VIR May 19, 2017. The goal is to have as many Factory Five cars under 2 minute lap time.
The May 9th NJMP engine issue turned out to be really bad, a broken crank right behind the harmonic balancer. Mark, Brendan, Sean and I had one weekend to swap in another engine so we can make VIR! We did it in record time swapping in another junkyard 2014 F150 engine.
With the car finished, loaded it back in the RV ready for Mark, Wanda, Brendan, and Sanna to tow my truck/trailer/race car down to VIR Thursday. Jim Schenck (FFR R&D) and I flew into RDU from Boston. Chris Ronni (also from FFR) drove the big rig full of show cars to the event, with the plan of all FFR race cars be under the tent surrounded by the show cars. At the track waiting were Wayne Presley with the Factory 818R racecar. Wayne did final tuning and track testing getting the 818R ready for the UTCC2017. Trevor Poquette and Austin Nally with their Cobras also met us at the track. We were all lined up under the FFR Semi trailer tent.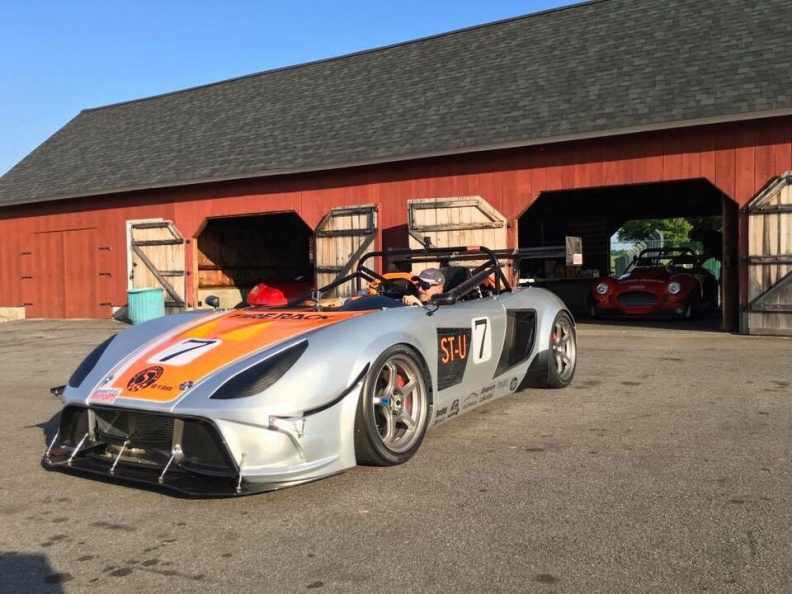 Wayne in the FFR818R getting tech'ed for the UTCC2017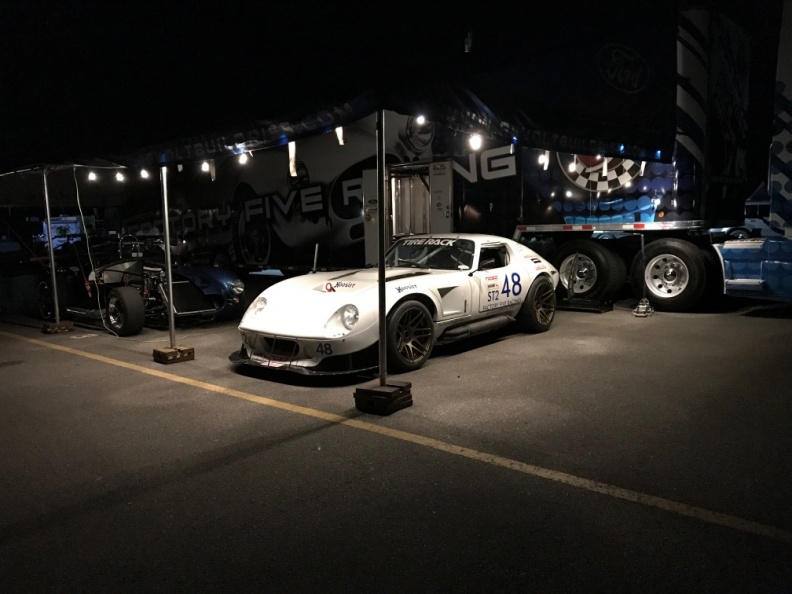 Car all tucked in for the night looked epic under the tent at night.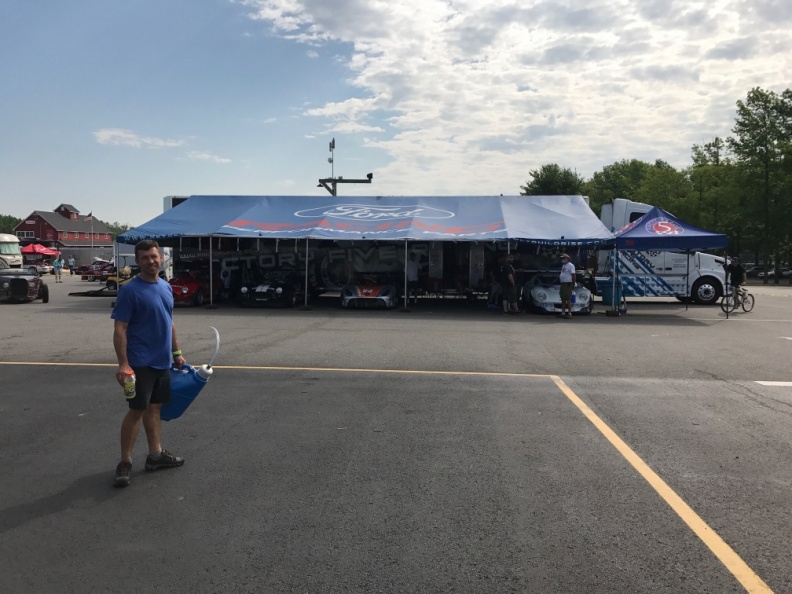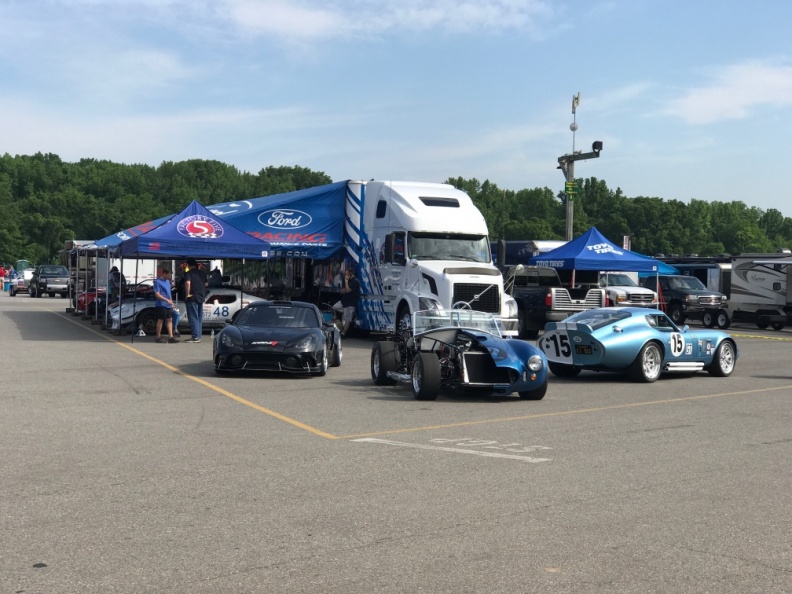 Friday morning everyone was ready to get on track. Added some required sticker and we were ready to run UTCC 2017.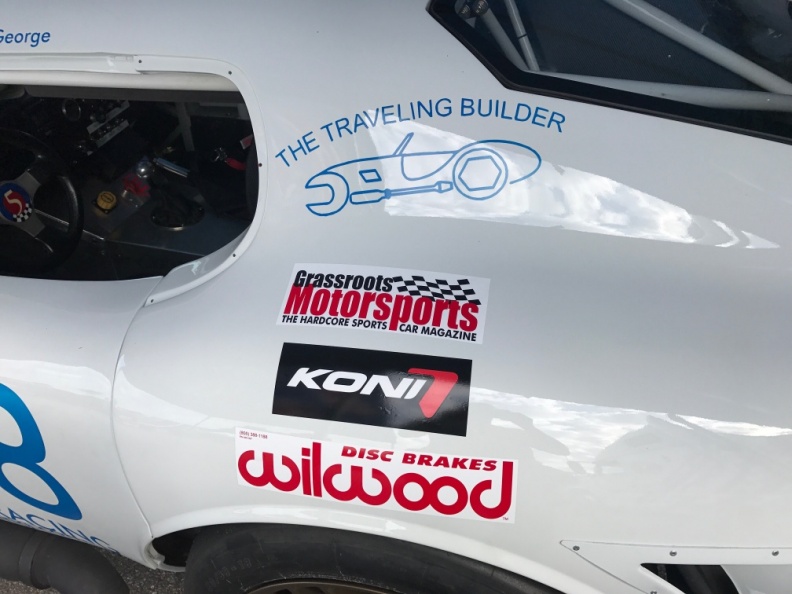 The format was 4 sessions on track, first being a warm-up followed by 3 timed sessions, your fastest time of any timed session counts. If you go offtrack or spin the time is disqualified.
First timed session I set a couple of low 1:59, which one of the laps turned out to be a 1:58.985! Mission accomplished! the only nagging issue was the low oil pressure warning light kept coming on, engine seemed to be OK enough to run fast times!
Trevor 2:02's Wayne 2:05's. Both Trevor and Wayne spun in the session having their times DQ'd. Austin was running in the 2nd UTCC group and was in the 2:08's.
Time to get the rest of the FFR cars up to speed, it helps to have the same data logger in 3 out of 4 cars, Trevor, Wayne and I all use Racepak's G2X, so in the RV we went bringing up the data on the computer analyzing where they are loosing speed compared to my 1:58 lap. Wayne looked at Austin's AIM data hoping to help him improve as well.
Second timed session I was unable to improve my time, running 1:59.4, Trevor found some pace running 2:01.808, and Wayne with a big improvement got to 2:02.528, but unfortunately spun again, getting DQ'd. It was really hot out, heat not helping lap times. Looking at data once again both Trevor and Wayne were loosing 2+ seconds in the high speed esses and in hog pen coming onto the front straight. It was comical my lap vs theirs when looking at the straight-a-way, my 365HP vs Trevor 500+HP vs Wayne's 400+HP but 600lb lighter car, they gained seconds on the straights then lost them in those 2 areas on track! Austin in 2nd UTCC group improved his time now in the 2:05's.
Third timed session I did not go out, It was still hot out and very humid threatening to rain at any moment. Trevor, Wayne and Austin had one last session to try to break under 2min. Wayne did it!! he ran a 1:59.900. After the session Wayne was ecstatic thrilled he got under 2:00. This was huge as this 818R has been to the UTCC the last couple of years always having issues, either transmission, or engine. A huge accomplishment that Wayne took the car, fixed it, then drove it without much experience at VIR under 2:00! VIR is a very daunting racetrack and requires a lot of track time to be fast. Great job Wayne!
Both Trevor and Austin did not improve their time the last session, but they would run both Sat and Sun in Time Trials to better their times.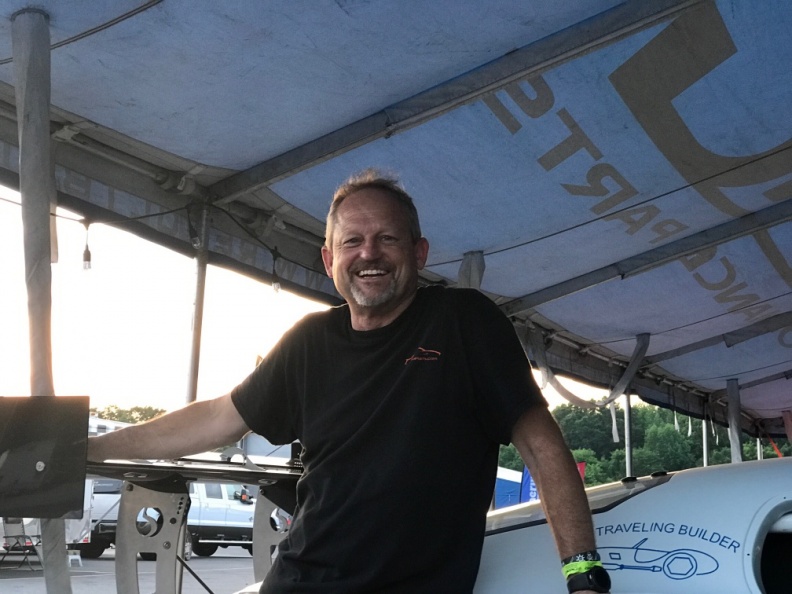 Happy Wayne!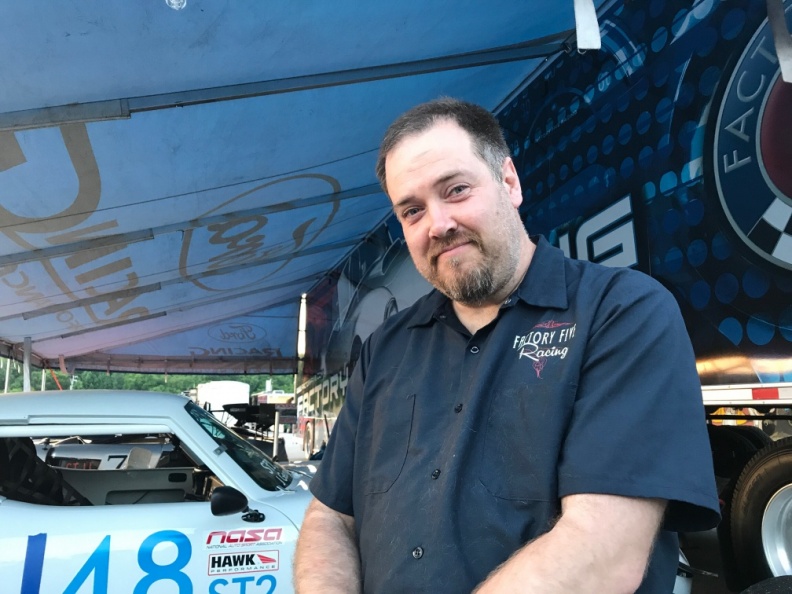 Jim happy the kits he designed, FFR Daytona Coupe R and FFR 818R both ran under 2 minutes.
Saturday brought the usual practice/qualifying/race for me, but this time sharing the car with me Brendan Dougherty running his first time ever on track in High Performance Driving Education 1 with Austin his instructor!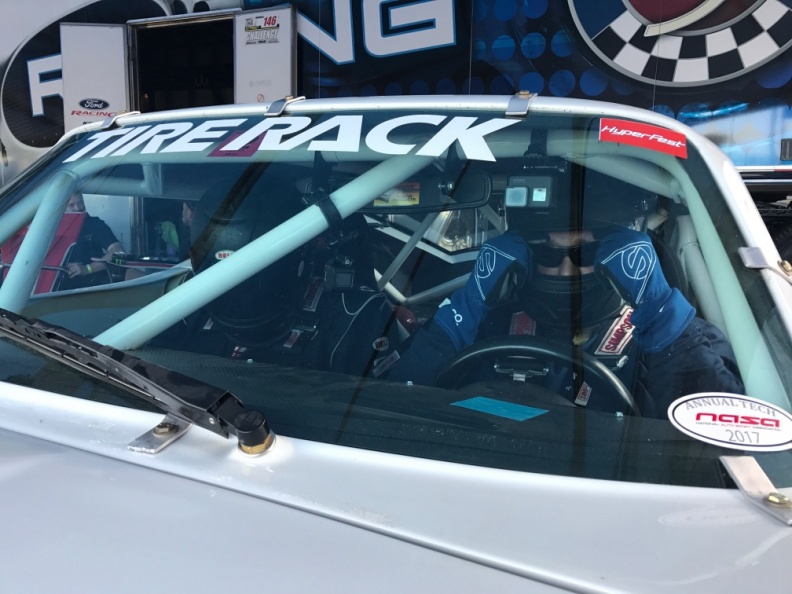 Brendan did GREAT!! He knew the racing line from Forza (we play online every Tuesday) and followed instruction from Austin perfectly. The only thing I wished was that he had an open faced helmet, Mark said he sticks out his tongue when he concentrates 🙂 4 HPDE1 sessions done without issue!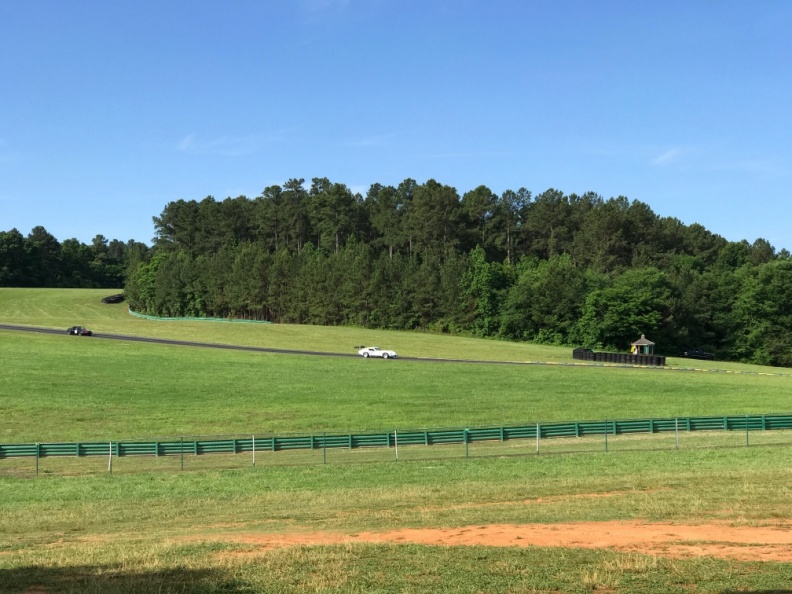 Above, Brendan with Austin instructing on track, below Brendan and I.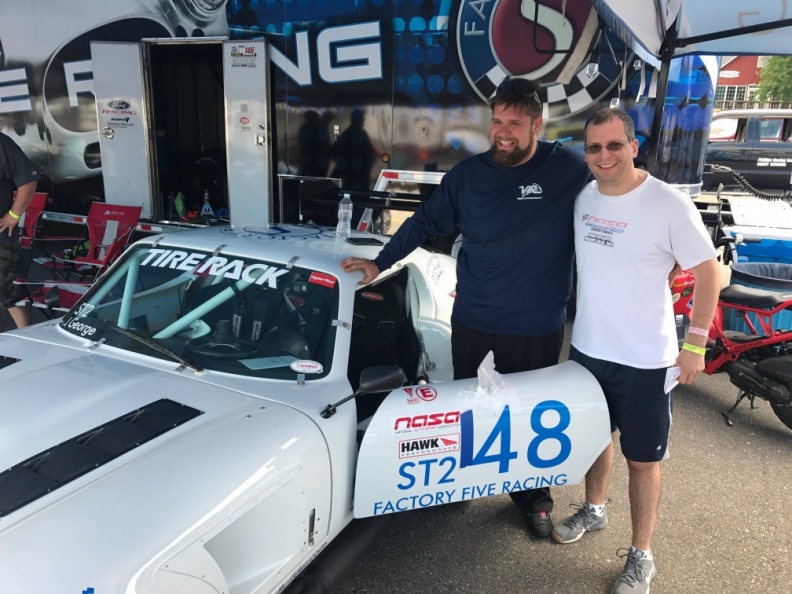 Race Practice was hectic with a ton of cars everywhere, not able to set a good lap, but confirming oil pressure still fluctuating throughout the lap in turns and on the straights. Something is not right with the drysump/engine. Also fighting brake knock back once again, much more manageable then in March, but still an issue.
Race qualifying was cut short, a fellow competitor had something brake on his car causing it to flip in the air landing back on its wheels going into the oak tree turn. He is OK and walked away from this incident.
Saturday race had me start 7th overall, had an OK start still battling oil pressure issues and not helping the situation had a mis-shift zinging the engine to 8000rpm! I accidentally put it in 2nd gear instead of 4th gear. After that with the oil pressure still not right I came in early not finishing the race. The transmission was also hard to shift and was getting worse at high rpm causing the mis-shift.
Saturday night we changed the oil running 15w50, and messed with the dry sump pressure regulator spring changing it for another spring hoping this would fix the issue.
Sunday brought cooler temperatures and in qualifying was able to run 2:00.578. All the oil pressure fix changes did not improve the oil pressure, it was still erratic. Brendan did his HPDE sessions then we decided it was not worth risking the engine, we packed up and will dive into the dry sump system at Mark and Brendan's shop in PA at a later date.
Even with all the car issues, everyone had a GREAT time! cannot wait to do it again, hopefully this time without engine issues. A huge thanks to Jim, Mark, Brendan, Wanda, Shanna, Chris for all the help and support throughout the weekend.
Next event will be at NJMP Thunderbolt June 16-18.
Pictures: http://www.johngeorgeracing.com/gallery/index.php?/category/400