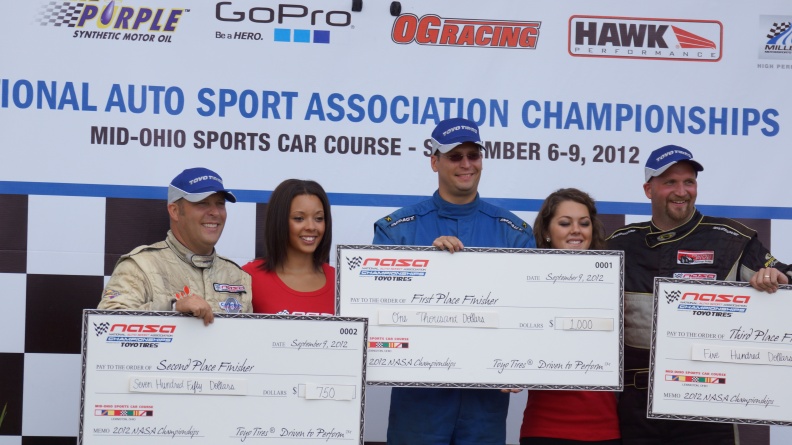 I Won!! 2012 FFR NASA Championships!!!
From Factoryfive.com:
JOHN GEORGE WINS THE 2012 FACTORY FIVE-N.A.S.A. NATIONALS CHAMPIONSHIP
September 10th, 2012
Congratulations to Factory Five Challenge Series Driver John George!
This past Sunday's Factory Five-NASA Challenge Series Championship Race saw Paul Arnold start from the pole and build a healthy lead as defending champ Paul Kaiser went wide in the carousel letting the entire field pass before he was able to rejoin at the tail end of the field. Despite having the car to beat all weekend, this turned out to not be Paul's year as a mechanical failure forced him to pull off in turn one after leading all the opening laps.
Paul's retirement opened the door for John George to take a commanding lead as he had built a large gap back to the battling Wellinghoffs, Gregg and Gregory, and three time champ Scott McKay. Meanwhile, Paul Kaiser had slowly been picking up spot after spot and eventually was able to re-take second position with Gregory Wellinghoff holding third.
A full course caution brought the field back together and Kaiser was able to get around George on the restart and take the lead with Wellinghoff tucked in right behind in third. With the top three nose to tail, Kaiser's engine developed a slight miss allowing George to pass and pull back into a comfortable lead, while Wellinghoff put hard pressure on Kaiser for second. Just when it looked like a secure win for George, another full course caution came out bringing the field together once again for a 3 lap dash to the finish.
George got the jump on the restart and took a few car length lead into the final lap, while Wellinghoff and Kaiser traded the second position on each of the final two laps with Kaiser able to just hold for second as they came to the line. Rounding out the top five was Brian Sanders, having run strong and stayed out of trouble the whole race in fourth, and Carl Thompson who emerged after battling with several drivers in the fifth spot.
Overall, it was a great race to watch and a popular victory for John George who has been on the podium often but hadn't made it to the top step until this year.
Congratulations to all the drivers! Next year, the Championship moves out west to Miller Motorsports Park where the racing looks to be even closer as the competition seems to get a little tougher every year.
What a weekend! Full of great racing, loads of food, and awesome friends and family. It started out a tad frustrating with FFR#48 wanting a new alternator, ECU, Coil, Distributor, and plug wires. Once all issues were resolved Wed. Test/Tune #48 ran like a champ the rest of the time. Thursday and Friday saw qualifying races 1 and 2, where I finished 2nd and 4th putting me 3rd in the Nationals race Sunday.
I cant thank enough my family and friends, means so much to have great people around!
Incar video:
Nationals race https://vimeo.com/49278128
Quali Race 1 https://vimeo.com/49282395
Quali Race 2 https://vimeo.com/49282222
Pictures: http://www.johngeorgeracing.com/gallery/index.php?/category/360
More articles:
http://auto-racing.speedtv.com/article/nasa-national-championship-at-mid-ohio-wraps-up/
http://www.nasaproracing.com/2012/09/royal-purple-awards-new-sparco.html
http://www.autoweek.com/article/20120910/motorsports/120919990