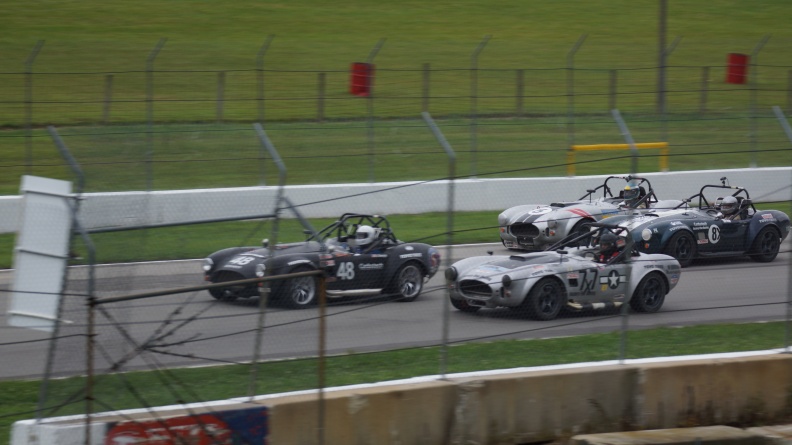 ECS #5 has us joining our fellow FFR racers in the NASA Great Lakes region promising to be another fun and competitive event. In attendance are Peter LaRose, Carl Thompson, Rafe Baskin, Eric Kostamaa, Paul Arnold, Tom Lavell, Brian Sanders, Greg and Gregg Wellinghoff and me.
On the way to MidOhio I picked up my race car at Mark Dougherty's shop in PA, and convoyed along with Brandon Dougherty towing Peter's car which Mark also worked on. Thursday test/tune with 10tenthsmotorsports saw Peter, Brian, Greg and I in attendance getting extra time on track, with me planning on changing springs fine-tuning the setup for the weekend (this turned out to be the theme of the weekend!) Early rain shower unfortunately played havoc with all of my meticulous planning and was unable to run through my whole test plan, but was able to tweak a soft setup ready for Friday's Test/Tune.
Friday weather turned out the same unpredictable as ever even having our 2nd session cancelled due to lightning. We ran on wet weather tires, dry weather tires, I even got to swap cars with Peter the last session to see how his car was handling. More spring changes occurred Friday.
Saturday morning's practice was wet and only a few ventured out. Qualifying still wet but I managed to place 2nd behind Rafe, and in front of Paul A., Paul K., Eric, Greg, Peter, Carl, Tom, and Gregg. The grid set we waited for our time to race, with 4 hours to waste, more spring changes occurred for me. The weather was off and on rain, eventually drying out enough for some of us to change to dry weather tires all but Paul K. changed to dry's. The race started with Paul A. and I gapping the field by a good margin, and then the rain came! I immediately backed off the pace knowing full well Paul K. with rain tires on will be passing me any moment, on the 2nd to last lap Rafe (dry tires) was leading Paul K. both passing me on a very slick track. The race finished with Paul A. with the win, Rafe 2nd, Paul K. 3rd, me 4th, Eric, Greg, Brian, Carl, Tom, Gregg, and Peter. Saturday night I once again changed springs softening the front even more trying to cure my understeering car.
Sunday brought good weather finally practice was uneventful, qualifying saw Paul A. and I separated by .071 seconds, followed by Paul K., Greg, Gregg, Rafe (having car issues down on power), Brian, Carl, Eric, Tom and Peter. Once again we had 4 hours to waste and what better time to change some more spring rates, this time dropping the fronts to 600lb, rears left at 500lb, and the swaybar set to medium. The race had Paul A. in the lead following close by me and Paul K. battling through the AI traffic which we started behind. Paul A. sliced through traffic opening up a gap while Paul K. and I started an epic battle once again. Passing an AI Mustang into turn 2 I broke hard and as I downshifted to 2nd gear the rear tires broke loose causing me to loose traction hitting him in the door with my rear tire, my car felt ok after the incident and was able to continue the race. Late in the race Paul K. made a pass and now it was my turn to chase until the carousel he ended up spinning right in front of me. I was in a comfortable 2nd place Paul A. in the distance, and Paul K. behind and that's how we finished. After the race I filled out a body contact form, and was called to the race director's office so he can review my incar video. I was found at fault and was disqualified for this race and was given a 2 race probation period of no body contact in the Great Lakes region. Paul K. inherited 2nd place followed by Brian who inherited 3rd place because Greg was found underweight!
An exciting race for sure all 3 of us Paul A, Paul K getting in the 1:35's laptimes a full 3 seconds faster then last year's spec. The next race of us is the 2012 NASA Nationals back at MidOhio September 5-9.
Pictures
http://www.johngeorgeracing.com/gallery/index.php?/category/294
Incar Videos
Saturday Race: http://vimeo.com/47474169
Sunda Race: http://vimeo.com/47468130