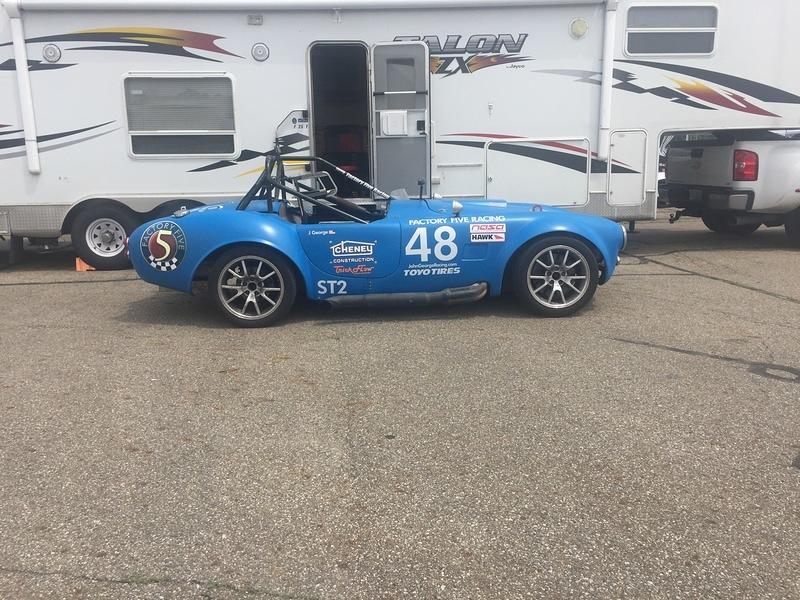 New light blue paint, more wins!
5 FFR Challenge cars came to race MidOhio this past weekend. In attendance drivers Brian Sanders, Greg Wellinghoff Jr, Mike Dziurgalski, Mike Tuck were all eager and ready to conquer the famed MidOhio Pro course.
Thursday before the event I stopped by Mark And Brendan Dougherty's shop in PA to pick up my racecar. They helped me fix the rear trunk frame damage I suffered at the last event and with Factory Five Racing's generosity installed the new body and trunk, painted it using Plastidip light blue rubberized coating (easily removable if you dont like it, peels right off.) Applied all new reflective decals and it really looks sharp, I think it came out great! Lets see how long the Plastidip paint will last in race conditions. Check out the gallery for more pictures.
Friday test/tune had Brian, Mike T, and I practice with Mike D. and Greg arriving at the track later in the day. Test/Tune is great allowing you to scuff new tires, play follow the leader, and work on perfecting the challenging MidOhio circuit. No drama was experienced the weather beautiful making a very enjoyable day. Greg arrived at the track with still some work to do to his FFR #77, installing new belts, "zip tie" the headlights to the body, the usual shenanigans commenced.  Earlier in the year his race trailer was ransacked and all of his tools stolen, with Greg having to purchase new tools there was a plethora of empty boxes lying about with shiny new tools getting first used.
Saturday had practice early, qualifying  then a long wait till the race at 3pm. I qualified first followed by Brian, Mike T., Greg, and Mike D. The start of the race had us at the back of the first wave, behind a gaggle of AI mustangs. The flager dropped the green really early as we just barely made it onto the straight, with that we were off. All of the AI cars were bunched up on the right ready for the right hander end of the back straight leaving me a wonderful lane on the left to pass all but the 2 leaders in AI! IT WAS EPIC! its like the seas parted I scooted through and unfortunately for my fellow FFR drivers the seas closed and they got stuck behind a fiercely battling AI group. With my lead cemented I had a fun race putting as much distance as possible to the 2nd place FFR. Behind me Brian, Greg, Mike T, and Mike had a heck of a race for 2nd, swapping positions with eventually Greg solidifying 2nd, Brian 3rd, Mike D. 4th (his serpentine belt fell off on lap 9) and Mike T. having an incident on track with a 944 after the race was disqualified for at fault contact and given a 1 race suspension. Unfortunately for Mike T. his incar video did not record which would have helped determining the outcome of the DQ. Brian tweeked his hip/lower back area and was in real pain unsure if he would race Sunday. We all went to dinner after at the local Steak place down the street.
Saturday in the time we had between qualifying and race we all decided to go watch the Lightning run group (small bore group, Mazda Miatas, SpecE30, etc.) We had fellow FFR street owners come do parade laps at lunchtime and they stuck around watching the race with us. Also in attendance retired FFR Challenge series driver Greg Sr. came up to say HI and harass us.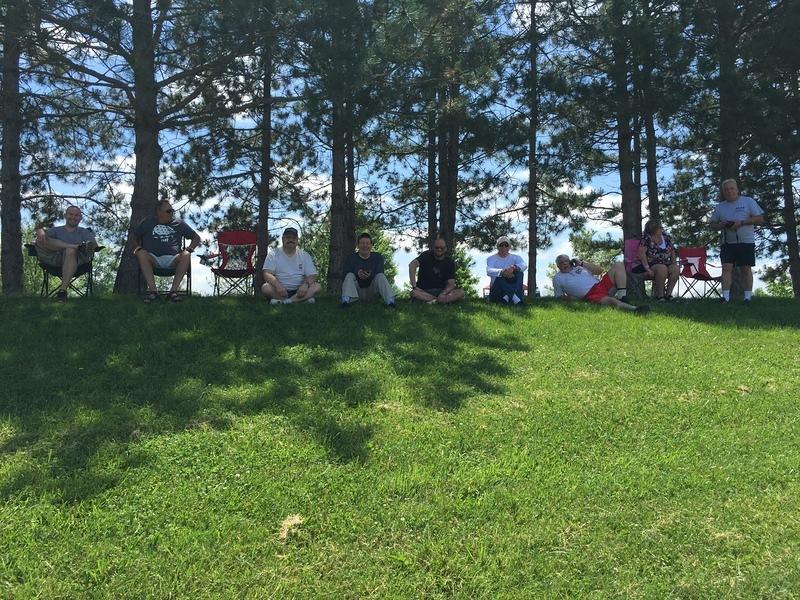 and they all though it'd be very funny to do this together: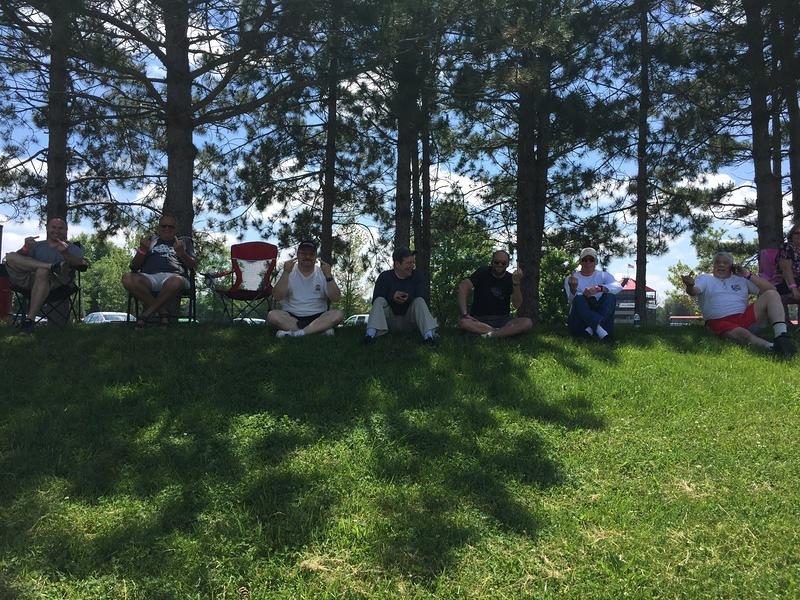 Sunday had the same schedule as the previous day but with me working on changing camber/caster/tow early before practice as I wanted to change to see if I can get the car to handle better. Qualifying had me in P1, this time running .303 off the FFR track record (early AM changes worked!!!) followed by Greg in 2nd, and Mike D. 3rd. Brian's hip/back pain did not resolve itself overnight and he opted not to race. The race had us behind the AI cars once again but this time no seas parted for me and I had to work through traffic, lots of traffic, and was able to build a gap early to Greg. I finished 1st, Greg 2nd, and Mike D. 3rd, completing the race finally getting the checker!
My next race is this weekend at NJMP with NASA-NorthEast, we are a support race for the TransAm series along with Porsche GT3 Cup. I will be running my car in ST2 class with just changing on Hoosier tires will hopefully make me competitive against the Corvettes/Mustangs/Evos/Etc.
Pictures: http://www.johngeorgeracing.com/gallery/index.php?/category/297
Incar video: