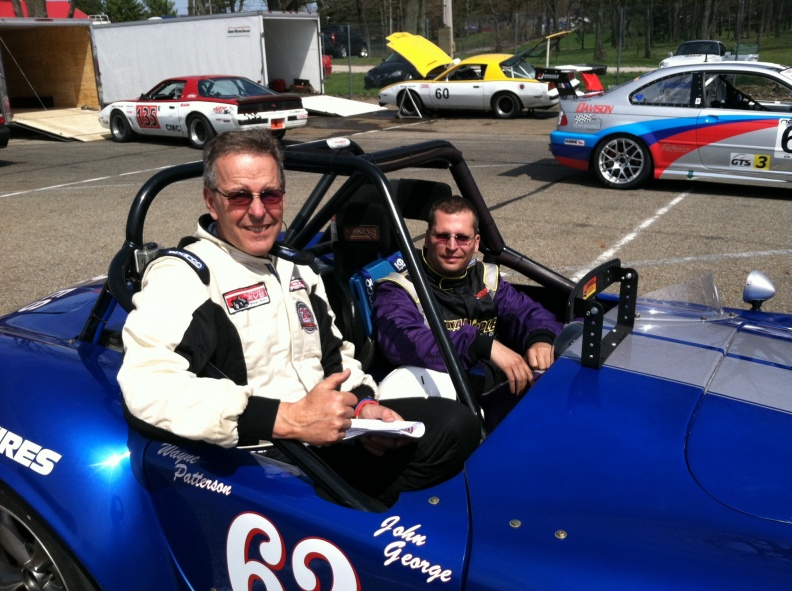 3rd place, 2nd place and a 1st place all in one weekend!
Wayne Patterson and I teamed up to run the 3hr enduro in Wayne's car Friday at MidOhio. The plan was to use Hoosier R80 racing slick tires and go for the overall win in ES. Things were going great, I started the 3hr enduro with my first stint being 1hr 15min as that is what we calculated we could do before our first pitstop for fuel and driver change. The seasoned crew we had included Mark Dougherty, Brendan Dougherty, Brian Zuchruski, Carl Thompson and John George Sr. fueled the car without issue with Wayne now starting his stint in his car. During my stint we were in 2nd place overall with us running a comfortable pace, but towards the end of my stint the car went from neutral to oversteer with me thinking that was normal as all of the fuel was gone out of the fuelcell. Wayne comes in 30min later complaining about the car being weird in the steering wheel. We took a look the steering and after seeing the rack move left to right with no bushings (the turned to powder after 7+yrs!) we retired from the race. In the ES class there were 5 other competitors including Pro race teams Capaldi Racing and Rehagen Racing both testing their Grand-Am GS spec racecars but were using the 3hr enduro as a test for their upcoming Pro race at MidOhio in June so they were not really that seriously running their cars to win ES but as a 3hr test and tune. The race ended with us surprisingly in 3rd place in ES!!
Saturday started the usual race weekend activities of practice early morning, qualifying mid-day and race in the afternoon. Back now driving my car I fine-tuned tire pressures, swaybar settings to optimize my car for qualifying, which went well with me on pole for the race. The time between qualifying and race seem to drag on forever as we had 4-5hrs to wait until our race so we all sat around soaking in the beautiful weather. The race had me 1st, Rafe 2nd, Greg Jr 3rd, Carl 4th and Wayne 5th. Start of the race was a little hectic as we were supposed to be the 2nd green flag wave, seeing green flag waving for the first pact of cars Rafe went for it not waiting for our flag to drop, but gave up all of the spots he overtook by mistake  when our green flag went. I took the lead easily with the rest in tow. Rafe made back the spots he lost and was hot on my tail until he lost grip and did an off-track excursion going into the carousel. I was enjoying the battling AI cars in front of me with no threat from behind until Rafe caught up. It was time to race! no more waiting nicely for passing AI cars with Rafe hot on my tail. Rafe and I proceeded to battle fiercely swapping the lead a couple of times and on the last lap very exciting side-by-side action through madness until I had to back off due to a yellow flag in turn 10. Rafe almost lost it again in turn 12 allowing me to be on his bumper for the finish with us .2 seconds apart! Great race with both of us close and on the limit. During the race I managed to set a lap record for MidOhio Club Course with a 1:39.097.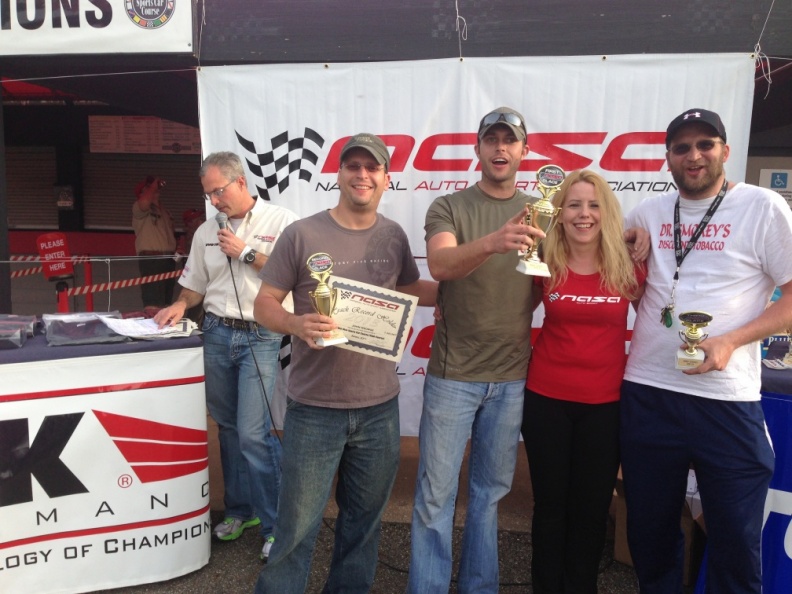 Sunday brought rain! We all decided to skip practice and saw both Wayne and Carl head back home not wanting to run in the rain. Qualifying was wet, Peter Larose made an appearance dropping off his racecar so Mark D. could take it back home to his shop to diagnose and resolve several issues from last year and stayed to watch the race. Qualifying saw me on pole followed by Rafe (having engine problems,) and Greg Jr. Rafe got his engine figured out by swapping the TPS with a new one and was ready for the rain race. We got the green flag with me taking the lead, while behind me Rafe, usually the rain master at MidOhio, had 3 off-track excursions with the last off -track late in the race unfortunately getting beached in the gravel trap end of the back straight (thanks for not hitting me!). We finished with me 1st, followed by Greg Jr 2nd, and Rafe 3rd.
A great weekend of racing once again. Next event for me is Road Atlanta June 14-16 where we expect more then 5 FFR's to challenge for P1.
Pictures: http://www.johngeorgeracing.com/gallery/index.php?/category/337
Incar Video from Saturday's Race: 

Enduro Videos: