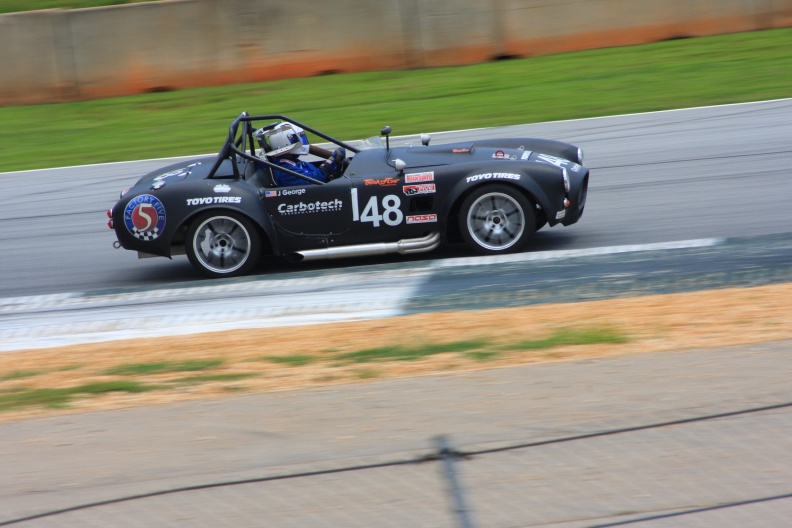 ECS Race #4 was held this past weekend at Road Atlanta with 11 FFR Challenge cars. In attendance was Eric Kostamaa, Paul Arnold, Rafe Baskin, Carl Thompson, Marty Howard, Tom Lavell, Scott McKay, Paul Kaiser, Mike Tuck, Jim Schenck and I. Mike Tuck was running #60 in HPDE.
Friday, test and tune day was utilized by all except for Scott and Paul Kaiser, Scott bringing #64 to the track not running good requiring a new wire harness and injectors to be put in at the track with the expert help of Brandon Dougherty, and Paul K. arriving late Friday night. Wrenching on the cars was more than usual this weekend including cracked exhausts, cracked j-pipes, and engine rocker studs breaking. The local Georgians including Tim, Joe, and Ryan were more than happy helping out the racers with Tim welding up mending the cracked exhausts, and Joe wrenching on engines, and Ryan coming up with ideas.
Friday evening from 2pm – 5pm there was a 3hr endure scheduled, which Scott McKay and Tom Lavell took full advantage entering their cars. Scott looked strong at the start running in 3rd overall out of 26 starters, but on lap 10 experienced fuel pickup issues and came into the pits to get resolved. Tom treated it as an extended test session coming back to the paddock for tweaks to the car but unfortunately 40 or so laps in experienced heavy contact after spinning off track. Tom was ok but the car was not reparable at the track.
Scott's issue with the fuel cell turned out to be his fuel cell foam breaking apart and completely clogging his sump box and fuel pump. The old foam was removed, but now the sump box housing the fuel pump needed to be stabilized inside the cell since no foam was there to keep the sump box from moving,  Ryan's idea of bolting an aluminum stock to the top of the plate then bolting the sump box to this on the bottom of the cell prevailed.
Saturday's qualifying saw Scott on pole with a 1:36.668, me 2nd with a 1:36.674 (yes that is .006 difference!) Paul with a 1:36.889, Jim 1:37.667, Rafe in the 1:39's, Eric in the 1:40's, Carl with a 1:43, and Marty still running the old engine spec with a 1:45. Paul Arnold broke a rocker stud in practice on Saturday, and Rafe did the same during qualifying both deciding to retire the cars for the weekend.
The race Saturday witnessed some great battling the first couple of laps with Scott, Jim, Paul K. and I nose to tail swapping positions when possible until Paul K. had a spin out of turn 4 somehow driving backwards managing to keep it off the concrete wall, causing Jim and I to slow loosing contact with Scott who ran away with the race. My car on lap 5 coming down the esses broke a rocker stud and forced me to retire safely pulling off on the back straight watching the race from the turn 9 flag station. If you have never been to Road Atlanta, turn 9 (more a kink then a turn) is about the fastest point on the track and it was so cool to be on the other side of the barrier watching and more importantly hearing the cars drive at full speed and song. The FFR cars sounded exquisite at 6000rpm! Very cool. The race finished with Scott winning, Jim in 2nd, Paul 3rd, followed by Eric, Marty, Carl and I. Carl unfortunately had a massive crash on lap 7 hitting a spun mustang who decided to drive into Carl's evasive maneuvers. Carl was OK with no soreness from the heavy hit, but his car taking the brunt of the impact with the nose of the car ripped off, radiator heavily damaged, and front suspension mounts bent.
Getting towed in after the race, Joe and I got to work replacing a damaged lifter and all of the other rocker studs with ARP rocker studs hoping that would fix my problems. We were accompanied by the peanut gallery seated in the 'stadium seating area on the angled trailer gate' commenting on our work, and later watching in car footage from all racers, and even from fellow FFR racer Andrew Switlyk driving a Spec Miata since his engine upgrades on his FFR were not complete.
Sunday qualifying saw hectic traffic with early yellow flags getting thrown. Unfortunately for Scott and Jim who thought the multiple yellow flags would cause the session to end peeled off the track with only 4 laps run out of 8. I deciding to stay out was able to run some stellar laps in the 1:36's with the best of a 1:36.494 putting me on Pole for the race Sunday. Scott was 2nd, Jim 3rd, Eric 4th and Marty 5th. Paul K. as decided to sleep in and missed qualifying.
Sunday's race had us doing a standing start, 6 FFR Challenge cars stationary on the front straight waiting for the green flag. I had a great launch, but missed 2nd gear and had both Jim and Paul pass me before turn 3, then played catch-up trying to regain my lost positions. The car, coming out of turn 10a felt weak on power, and this was confirmed when the 3 amigos, Scott, Jim and Paul motored away out of sight. Lap 2 saw me retire from the race, and Scott pulling off the track on lap 7 due to a loose relay. Paul ended up with the win, followed by Jim 2nd, Eric 3rd, Marty 4th, Scott and I.
The next race for me will be Aug 10-12 at MidOhio hoping for another great FFR turnout, but lacking all of the accidents and reliability issues plaguing us at Atlanta.
Track map: http://roadatlanta.com/trackmap.lasso
Pictures: http://www.johngeorgeracing.com/gallery/index.php?/category/373
More facebook pics: http://www.facebook.com/media/set/?set=a.3754930085492.150040.1643663174&type=1
Saturday Incar Videos:
Me #48 – https://vimeo.com/44352443
Jim #52 – https://vimeo.com/44352444
Scott #64 –
Paul #8 –
Sunday Incar Videos:
#48 qualifying – https://vimeo.com/44355609
#48 – https://vimeo.com/44354663
Jim #52 – https://vimeo.com/44354662
Scott #64 –
Paul #8 –