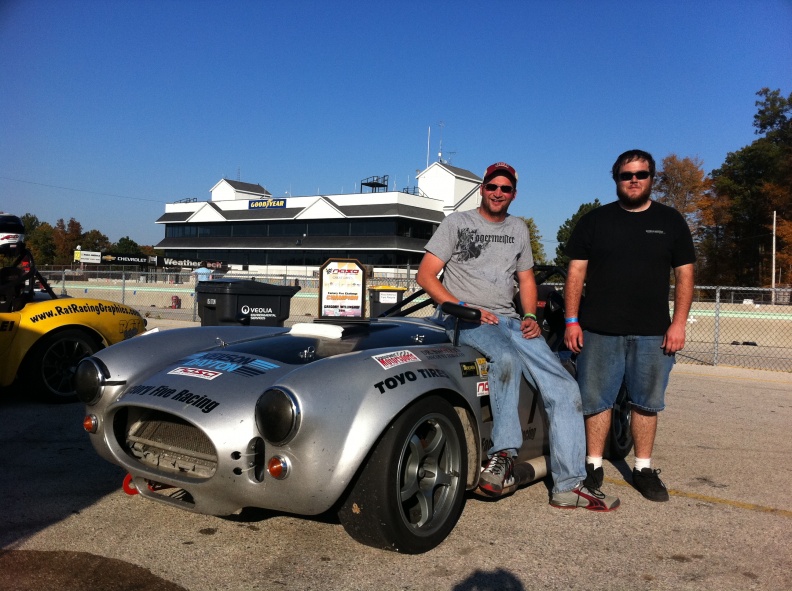 Road America at 4.05 miles long is one of these racetracks that has been on my 'want to drive' list for quite some time, me having run countless laps on it online in Forza racing game on Xbox360. Greg Wellinghoff tried to get me to come out with my car to drive it but it being in Wisconsin, really far from home and with my broken engine, that was not going to happen this year. After talking with him some more, he suggested for me to fly in and co-drive his FFR#77, I took him up on the offer. Flew out of Boston Sat at 6am, and was on the racetrack for qualifying for 11:15am. At the track Greg and I were met by fellow Challenge Series racers Brian Sanders, Lyle Riggen, Paul Arnold with his son Rafe, and new this year Eric Kostamaa.
His car took some getting used to as his gas pedal is more like a stub then a pedal (pedal part broke off a long time ago). I got pole for race#1 (2 races Saturday) breaking the lap record set before by Lyle by 2.5 seconds, a 2:39.019! Race#1 started off great, battling with Paul Arnold and Lyle Riggen for first place, until Gregs car threw the accessories belt powering the alternator/power steering/waterpump. I pulled off and got towed back in.
Greg and Greg(crew member also with same name) got the car fixed right away before Greg due out in the other race group with us not missing any tracktime. In race#2 I got in the lead early and won, the car running perfectly, me getting more comfortable with the track/car bested my laptimes down to a 2:38.134, a lap record.
Sunday had a 20min pursuit race early in the AM, with me driving, and the first 40min of the scheduled 3hr Enduro sprint race with Greg driving. The pursuit race went good, besting my lap from Sat down to a 2:38.120, and Greg running his fastest time in the 40min race getting down to a 2:41.563. After the races we packed up Greg dropping me off at Milwaukee airport on his way back to Ohio.
I cant thank Greg enough for his hospitality and letting me drive his car at this famous racetrack. The weather was beautiful, autumn trees in full 'leaf peeping' bloom, and even some great racing, life cant be any better.
Race Report: http://ffrchallenge.com/news-reports/2011/RA_FFR.pdf
Pictures: http://www.johngeorgeracing.com/gallery/index.php?/category/311
Greg Sat Race
JG Sat Race
JG Sun Pursuit race